'Overwatch' "Binary" Bastion Comic: New comic reveals backstory between Bastion, Torbjörn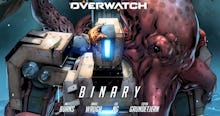 Blizzard really, really wants Overwatch players to like Bastion. First, it released an animated short about his sad robot feelings, and then it buffed the hell out of his abilities to make him more viable. The latter backfired and made him way too overpowered, prompting the Overwatch team to reel him in a bit. 
In what seems to be some kind of PR move to generate goodwill towards Bastion yet again, Blizzard released a new digital comic, "Binary," that sheds light on Bastion's relationship with the defense character Torbjörn.
Overwatch "Binary" comic explores Bastion's, Torbjörn's relationship
In all seriousness, the comic is pretty cool. There aren't any major story bombshells — like the revelation about Tracer's sexual orientation in the "Reflections" comic — but it's an interesting look at Torbjörn's complicated sense of responsibility for creating deadly machines that ended up turning on humanity during the Omnic crisis.
The comic is available for free on the Overwatch website.
More Overwatch news and updates
Check out the latest from Mic, including our deep dive into how female Overwatch players are dealing with online harassment, a cool Easter egg in the latest Pokémon Go update, a look at the Legend of Zelda fandom's reaction to uncomfortably hot Link and everything that comes in the $300 Shadows of War: Mithril Edition.