'SNL' imagines a future in which aliens attack and Donald Trump is entirely unprepared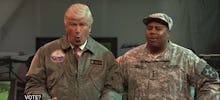 If one buys the theory that we are, in fact, living in a computer simulation, an imminent alien invasion doesn't seem at all out of the question. That's the near future imagined by Saturday Night Live in its most recent cold open: Destruction-obsessed extraterrestrials from the planet "Zorblat-9" launch an attack on our planet, and President Donald Trump is entirely unprepared. 
In SNL's vision of 2018, hostile aliens are obliterating the American people. They have already zapped California off the map. A camo-clad Kenan Thompson is rallying troops for a last stand against the alien invaders, and calls on Alec Baldwin-as-President Donald Trump to give a final, motivating word. That's not what he does.
"Hello, yes, what a beautiful day," Baldwin's Trump begins. 
"Who here loves Trump? I know this guy over here, he loves Trump, loves Trump," he says, gesturing to some smoldering human remains.
"Now here's the deal: We are going to beat these aliens because we have got the best military," Baldwin continues, "but we don't win anymore. And the aliens are laughing at us. They're killing us, and they're laughing at us."
The president's solution to the mass destruction? Bring back coal, and that's about it. As the aliens encroach on the East Coast military base, Baldwin's Trump exhibits very little concern for the lethal chaos at hand, playing down the catastrophe by changing the subject.
"I actually heard the aliens are already here," Baldwin says as the aliens strike blows just outside the tent where the soldiers have gathered. "They've been hiding in this country for hundreds of years, it's a fact. They're shape-shifters. They look like regular people but they're aliens."
"Look, there's one right there," he adds, pointing to Leslie Jones and Sasheer Zamata beside her, the only two black women in the assembled crowd.
Baldwin's portrayal of the U.S. president could be short-lived. The actor recently told Extra that, because of the Trump administration's "maliciousness," he might be hanging up his golden hair earlier than anticipated. 
"I don't know how much more people can take it," Baldwin said of his Trump impersonation. The actor seems to feel that real life and SNL's takes are edging too close for comfort, and the joke is getting less funny the further we get into the administration. 
Which, if he's right, could mean an alien invasion in as little as one year. Because sure, why not — anything, at this point, seems possible.