Peter Thiel's Palantir is said to have secretive ties to the New Zealand government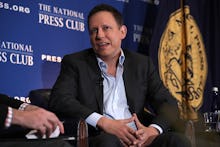 Peter Thiel's data mining firm, Palantir, is reportedly gearing up to help a mass deportation operation in the United States, but Donald Trump's unofficial tech adviser seemingly has his sights set on other governments as well. It's an interesting turn from the man who said globalization is over.
The New Zealand Herald reported Thursday that Palantir has ties with a number of spy and intelligence agencies in New Zealand, including the New Zealand Defense Force, the Security Intelligence Service and the Government Communications and Security Bureau. The contracts involved date back to at least 2012.
Green Party spokesman for national affairs and national intelligence and security Kennedy Graham told the Herald that the government's connection to Palantir was "potentially huge" and asked that there be a delay on passing a security and intelligence bill currently under deliberation. 
"The Parliament should not be too hasty until these things properly come to light," Graham said, the Herald reported.
So what's going on here? It's unclear how these agencies are using the data-analysis software Palantir provides, but the options are wide-ranging. All three aforementioned agencies told the Herald that they can "neither confirm nor deny" whether they had a relationship with Palantir, and how much they might have spent on it.
Mic has contacted Palantir for comment on the company's connection to New Zealand's spy and intelligence agencies.
It was revealed in February that German-born Thiel, who co-founded Palantir, was granted New Zealand citizenship in 2011 despite not meeting the usual requirements for citizenship. The news was a surprise to many of his fellow Kiwis, tech overlords and the general public. Thiel wrote the following in his application for citizenship, which explicitly lays out his interest in getting involved in the nation's "entrepreneurial environment" and reveals that he met with a number of political leaders.
"I have studied extensively New Zealand's entrepreneurial environment, the current venture capital market and the prerequisites for, and economic advantages of, developing successful technology companies in a New Zealand context ... I have concluded that the New Zealand government supports capital expansion, scientific research and international investment."