The Republican health care bill just cleared its first hurdle in the House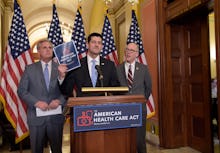 The GOP's proposed bill to repeal the Affordable Care Act was approved by the House Ways and Means Committee in a 23-16 vote after a grueling 18-hour session that lasted into early Thursday morning. The House Energy Commerce Committee, which also began debating the bill on Wednesday, is reportedly still in session nearly 24 hours later, CNN reported. 
Republicans hoped the bill would breeze through their majority-held House and Senate, according to CNN. But the proposal has drawn sharp rebuke from lawmakers and special interest groups on both sides of the aisle. Conservatives have nicknamed the bill "Obamacare Lite" and the AARP and the American Medical Association have both come out in opposition to the bill, citing loss of coverage and the impact it would have on the elderly. In a letter to Congress, the AMA called Trump's health care bill "critically flawed," noting that they supported Obama's Affordable Care Act in 2010 "because it was a significant improvement on the status quo at the time."
Meanwhile, the Associated Press reported that President Donald Trump is doing everything he can to push the bill through Congress, even in the face of sharp opposition from his own party and groups like the AMA and AARP, both of which have been supporters of the ACA. On Wednesday, Trump reportedly invited the House Freedom Caucus to the White House bowling alley in an effort to lobby Congress toward streamlining the bill to repeal ACA.
Trump is also reportedly going on a charm offensive as he attempts to shore up the support of Republicans with whom he has squabbled in the past. One such former rival, Sen. Ted Cruz (R-Texas), reportedly dined at the White House with the president and first lady Wednesday night. Cruz, who said before meeting with Trump that he had "serious concerns about the House bill," was a frequent Trump target while the two competed for the Republican presidential nomination. Trump frequently referred to Cruz as "Lyin' Ted," threatened Cruz's wife on Twitter and, most notably, asserted that Cruz's father had been an associate of Lee Harvey Oswald, the man convicted of assassinating John F. Kennedy.
While the president and Republicans push to get the bill through House and Senate, House Democrats are doing what they can to make the process as uncomfortable and tedious as possible. According to CNN, Democrats reportedly forced the Energy and Commerce Committee's clerk to read aloud the full bill during that committee's hearing. The reading delayed the meeting for about an hour. Meanwhile, in the Ways and Means Committee, Democrats introduced at least 100 mostly ill-fated amendments, including one that would require every taxpayer and all their dependents to receive health care coverage if the bill is enforced, according to CNN.