Some people are dipping pizza in glasses of milk — and others are positively shook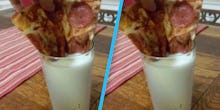 Maybe you once dipped your pizza crust into a glass of cola — heck, maybe you made a habit out of it. French fries in a frosty? The salty-sweet combination was lavish. 
But in 2017, a year in which "This Is Not Normal" has become a national slogan, some have publicized a preference for dipping pizza (not just its crust) into milk.
A woman by the name of "Mariam" appears to have been one of the first to discuss the pizza-milk melding on Twitter, Buzzfeed reported. She went as far as to dip her slice into chocolate milk, which seems too obscene to publish in this article. 
While several proponents of the milk + tomato sauce + cheese combination uncloaked themselves on Twitter, many more showed up to the social media platform to annihilate the practice. 
"What kind of fucked up society is this where this isn't punishable by death," a commenter on Facebook asked.
As outraged as some appear to be, their disdain may never compare to that of the thousands of Italian folk who came after one particular boiled milk pasta recipe. May the people of the world continue to judge one another's food choices with fiery tongues.