Hawaii is the first state to take Donald Trump to court over new Muslim ban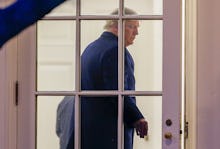 Hawaii is the first state to file a lawsuit against President Donald Trump's revised Muslim travel ban.
On Wednesday, Hawaii's state attorneys requested an emergency order from the federal court in Honolulu in an attempt to halt Trump's new executive order on immigration before it takes effect on March 16. The executive order, signed on Monday, would ban all refugees for 120 days and ban new visas from six Muslim-majority countries — Iran, Libya, Somalia, Sudan, Syria and Yemen — for 90 days.
State attorneys argued that the order is unconstitutional and asked the court to halt the ban nationwide, the Huffington Post reported.
According to the Independent, the lawsuit claims the discriminatory order will hurt Hawaii's tourism industry, students and Muslim population.
"Hawaii is special in that it has always been non-discriminatory in both its history and constitution," state Attorney General Doug Chin told the Independent. "Twenty percent of the people are foreign-born, 100,000 are noncitizens and 20% of the labor force is foreign-born."
The lawsuit includes Ismail Elshikh, a U.S. citizen from Egypt and an Imam at the Muslim Association of Hawaii, as a plaintiff. According to the Huffington Post, Elshikh's mother-in-law lives in Syria and the ban could prevent her from traveling to the U.S.
"This second executive order is infected with the same legal problems as the first order," the lawsuit, filed on Tuesday, reportedly said. "The president's order 'is subjecting a portion of Hawaii's population, including Dr. Elshikh, his family, and members of his Mosque, to discrimination and second-class treatment."
U.S. District Court Judge Derrick Watson granted their request to sue Trump's revised ban and a hearing has been scheduled for March 15.