A lawyer's vape set his pants on fire in court during his client's arson trial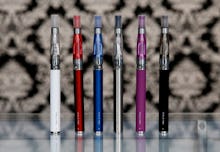 A Miami defense attorney was presenting the closing arguments for his client's arson trial on Wednesday afternoon when his pants suddenly burst into flames, the Miami Herald reports.
The lawyer, Stephen Gutierrez, had been arguing that his client's car spontaneously combusted and had not been intentionally set on fire, when witnesses told the Herald smoke suddenly began billowing from the pocket of his pants. 
Observers said Gutierrez fled the courtroom and the jury was evacuated, but no one was harmed. 
Despite concerns that the fire had been staged to illustrate his defense — and eyewitnesses who said that they had observed him fiddling with something in his right pocket as he addressed the jury — Gutierrez blamed a faulty e-cigarette battery for the blaze.
"It was surreal," one onlooker told the Herald.
Gutierrez was representing his 48-year-old client, Claudy Charles, who faced second-degree arson charges for allegedly setting his car on fire. Charles was later convicted by the jury.
In the coming days, Miami-Dade Circuit Judge Michael Hanzman will reportedly decide on whether or not to hold Gutierrez in contempt of court.
For now, it's safe to say Gutierrez's case went up in smoke.