This immigrant was told to check in with ICE — so he brought hundreds of people with him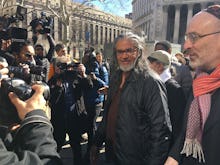 For many years, Ravi Ragbir has been working toward the realization of immigrant rights as the director of the New Sanctuary Coalition, an interfaith religious organization that opposes deportation. For all those years, Ragbir's own immigration case, which has been winding its way through the system in fits and starts, has been hanging over his head. 
Now, President Donald Trump is dramatically expanding U.S. Immigration and Customs Enforcement's deportation priorities — and, since the government isn't legally bound to honor his deportation deferment, Ragbir seemed like a likely target. 
So when Ragbir had to show up for his biannual check-in with ICE, fellow immigrant rights activists made sure he didn't show up alone.
"We are all Ravi!" chanted a crowd of hundreds of supporters, lead by a group of faith leaders, community organizers and politicians — including New York City Council Speaker Melissa Mark-Viverito.
Born in Trinidad, Ragbir has lived in the United States for 26 years and is married to a U.S. citizen. In 2001, though, Ragbir was convicted of wire-fraud while working as a loan-processor for a mortgage lender. According to Gothamist, Ragbir maintains that he was simply a low-level employee following the bank's own rules.
After he was released from prison in 2006, a judge ordered his deportation. Ragbir would be placed in an immigration detention center for two years, despite having already served half a decade in prison. When he emerged from detention, Ragbir continued to fight his deportation until 2011, when the Obama administration changed its priorities. Low-level criminal offenders who had been in the country for long periods of time would now be allowed to stay. Ragbir has serially extended his stay in the U.S. by making these biannual check-ins with ICE.
Despite claiming he would only focus on deporting people who had been convicted of violent crimes, Trump overrode the Obama administration's guidance — anyone convicted of any crime is a priority now, as well as anyone ICE deems to be a threat to public safety. That change made Ravi's family and coworkers fear his removal.
"We're concerned that this a very unpredictable administration that he could be targeted," said Kaji Dousa, co-chair of the New Sanctuary Movement and senior pastor of the Park Avenue Christian Church. "And I think all of us living in this country need to realize that they can come for us, too. I'm scared to come into the country because I've been active and I'm a U.S. citizen. I have global entry."
Others echoed similar fears about the targeting activists. "The Trump administration attempts to increase it's authoritarian power by showing it can hurt people randomly," said Rev. Stephen Phelps, a co-chair of the Sanctuary Coalition NYC. "We're here to stand up for all human beings."
Ragbir was escorted into ICE's downtown New York office building by a group of about a dozen faith leaders and politicians, along with his wife. As they waiting for him to return, hundreds of other activists formed a chain around the building.
In the end a visibly shaken Ragbir exited the building with mixed news for the crowd. Immigration officials released Ragbir but, despite the fact that he had complied with his biannual check in and had a deferment that lasted until 2018, the activist was told to return to the ICE office next month.
"I have a sense, my friends, the reason Ravi is standing here is because all of you are here," New York State Senator Gustavo Rivera said, standing shoulder-to-shoulder with a teary-eyed Ragbir.
On April 11, Ragbir will have to return to the ICE office. The politicians, faith leaders and activists that accompanied him on Tuesday will be back, too.