14 food documentaries that'll help you escape from the real world — if only for a moment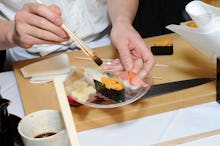 Sometimes it's healthy to escape from the real world, and by that we mean cable news, or internet news, for that matter, and unwind in front of the TV. But rather than mindlessly re-watching old episodes of your favorite sitcom for literally the trillionth time, why not treat yourself to a new, informative and entertaining food documentary? 
Kick back on the couch with a good snack and stream one of these feel-good, educational, or enlightening food documentaries. This list just includes movies, not TV series, so you don't have to worry about binge watching — when the film is up, you can turn the news back on! Or just go on to the next doc. Your choice.
The 2011 documentary that turned many a non-foodie into a sushi expert is certainly worth a watch. And a re-watch. Follow 85-year-old Jiro Ono as he sculpts and shapes fish into miraculous sushi creations for his 20-course, $300 tasting menu, available only to the 20 lucky diners each night who reserved a seat in his Tokyo subway station restaurant. You may not be able to score a spot at Ono's sushi counter, but watching the process is a close second. Pro tip: Don't bother ordering takeout sushi to eat along with the film — it won't even come close to what you're seeing on-screen. 
In the mood to hate-watch something? Turn off whatever reality family you've been keeping up with and dive into almost two hours of pure jealousy/awe/confusion as you see the world's elite food bloggers eat their way around the world. Before you switch off the tube feeling exasperated, don't worry, it's never to late to become an influencer. 
If you believe that food is the best medicine, this 2011 documentary is here to show you why that's true. As a nation, America has eaten its way to obesity, diabetes and other illnesses — or such is the thesis of this documentary by a duo of food scientists demonstrating that what you eat seriously impacts your health, for good or for bad. 
Like your favorite neighborhood Chinese takeout spot or red sauce joint that no one but locals would venture out to, Fannie's Last Supper is an understated Netflix gem. The premise of the 2010 documentary: Chris Kimball, of America's Test Kitchen fame, cooks a Victorian feast inspired by cookbook pioneer Fannie Farmer, who published the bestselling Boston Cooking-School Cook Book in 1896. If food history or obscure elaborate feasts excite you, this film can't be missed. 
Hitting home the point that yes, indeed, we are what we eat, is this 2016 documentary examining the food choices of people around the world and how they effect our health. If you needed a little nudge to stop eating chips everyday and start thinking about embracing a healthful diet, start streaming this 90-minute film and chomp on a piece of fruit. 
This 2014 documentary gives a big FU (the initials of the movie title, obviously), to the food industry, sugar lobby and corporations helping support childhood obesity, all to make a profit. Katie Couric narrates and helps you understand why you've been duped into drinking soda since babyhood. 
What's it like to be the world's best chef at the world's best restaurant? Terrible. Amazing. Exhilarating. Stressful. And fascinating, of course. Peek into René Redzepi's world as he leads the staff at his acclaimed Copenhagen restaurant, Noma, through foraging, cooking, serving and beyond. 
Earning the highest honor in the restaurant world is no easy feat, and there's no one way to cook yourself to the top. This 2010 documentary looks into the lives and kitchens of nine chefs around the world who have earned the coveted trio of Michelin stars. 
For most urbanites, suburbanites and even rural dwellers, seeing where our food comes from is far to rare. This short documentary takes a look at food production today and a new, younger generation of farmers and ranchers. 
If you've ever Googled General Tso while placing an order for the sweet and spicy fried chicken dish, or wondered about the origins of the Americanized Chinese takeout specialty, this documentary will answer a few questions. It'll also up your cravings for bite-sized pieces of chicken covered in a ketchup and chili sauce! This 2014 documentary traces the history of the beloved dish, from the 19th century general to the popularized version of the dish cooked up in New York City decades ago. 
You probably already knew the farming and agriculture industry was bad, but did you know how bad? This 2011 documentary will open your eyes to the nearing doomsday (okay, it's not that bad, but it could be) practices of government bureaucracy and how it can hurt and hold back small, healthy farms. 
Know your tasting notes when you sip a glass of wine? These sommeliers do. This 2012 documentary still referenced by vino-philes at restaurants around the world intensely follows four professional wine gurus as they study to pass the master sommelier exam, a nearly impossible test that only those with the sharpest palates and comprehensive wine knowledge can pass. 
True crime obsessives will enjoy this story of greed and con-artistry. The 2016 documentary tells the story of Rudy Kurniawan, an alleged wine savant, who led an intricate fine wine fraud scheme to dupe investors out of millions of dollars. Expect to feel a lot better about sipping a glass of two-buck-Chuck while watching this, because at least you know how much (or how little) it's worth. 
You may not have your next vacation planned, but a quick guilt trip is in store if you're ready to (dumpster) dive into this 2011 documentary that explores the immense quantity of otherwise edible food that gets unnecessarily wasted. A few tips to help you repurpose your leftovers and better plan to reduce food waste may alleviate some of your future guilt when you're chowing down on broccoli stem noodles.