'Final Fantasy 7 Remake' News: Game director confirms emphasis on action gameplay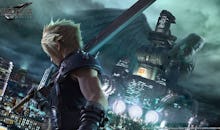 Sorry, Final Fantasy 7 purists: The new Final Fantasy 7 remake is going to have a drastically overhauled battle system — one that emphasizes action-oriented gameplay instead of the old-school turn-based style you're used to. This isn't brand-new information, but apparently there were some rumors to the contrary that needed to be clarified. And before you ask, there's still no word on any kind of a release date, but we'll keep you updated as we learn more about Final Fantasy 7 Remake.
Final Fantasy 7 Remake news: Director Tetsuya Nomura clarifies comments on battle system
It seems that in a previous interview with Final Fantasy 7 Remake director Tetsuya Nomura, he gave the impression that the revamped classic would have a command-based battle system, but he has since clarified those comments in an interview with Dengeki PlayStation, according to Forbes.
The Final Fantasy 7 update will indeed feature a more action-oriented style of combat, probably like Final Fantasy 15 or Kingdom Hearts. 
Final Fantasy 7 Remake trailer
If you need a refresher, here's the latest trailer for Final Fantasy 7 Remake from PlayStation Experience 2015.
More gaming news and updates
Check out the latest from Mic, including our deep dive into how female Overwatch players are dealing with online harassment, a cool Easter egg in the latest Pokémon Go update, a look at the Legend of Zelda fandom's reaction to uncomfortably hot Link and everything that comes in the $300 Shadows of War: Mithril Edition.