20 refugees created a cookbook of mouthwatering dishes from their homelands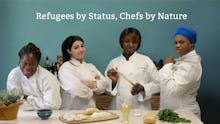 Hungry and craving some social good? Eat Offbeat: The Cookbook has big plans to dish out some scrumptious recipes and help communities in humanitarian crisis, too. 
Created by Eat Offbeat, a catering startup that serves international cuisine made by resettled refugees, the cookbook is currently fundraising with a Kickstarter campaign that launched on March 7. In just one week, the campaign has made it halfway to its goal of raising $50,000. (The campaign ends on April 8.) 
The cookbook will include more than 80 recipes from 20 chefs hailing from 15 different countries, Eat Offbeat founder Manal Kahi said in an email. Featured countries will include Iraq, Nepal, Syria, Eritrea, Guinea, Ivory Coast, Central African Republic, Algeria, Egypt and more. 
With the Trump Administration, Eat Offbeat has a lot on its plate 
Since President Donald Trump enacted a travel ban barring refugees from six Muslim-majority countries from entering the U.S., refugees have been thrust into the spotlight. While some Americans resist the idea that refugees should be able to immigrate to America, others feel strongly that refugees should be welcome. 
Lucky for Eat Offbeat, an outpouring of support for refugees has meant good business.
"Orders doubled since the ban," Kahi said, explaining Eat Offbeat is so grateful for support from New Yorkers that the company threw a "thank you" party in February. 
Eat Offbeat has trained talented home cooks and resettled refugees to showcase their culinary traditions with event catering. The New York City-based catering company began after Kahi, then a student at Columbia University, couldn't find any Syrian-style hummus in New York City. She decided to make it her mission to bring new and underrepresented cuisine to the city by employing resettled refugees. 
Kahi said regularly gets emails from people outside of New York City who want to support Eat Offbeat, and that's how the cookbook was born. 
Dhuha, one chef whose recipes are featured in the book, left Bagdad for the U.S. in 2013, the Kickstarter page noted. Upon arrival to the sates, she only knew a little English and didn't know how to navigate the New York City subway. But she did have her family recipes  — like baklava, Iraqi biriyani and potato kibbeh (shown below). Training under a Michelin star chef, Dhuha and other chef refugees have the opportunity to bring their cultural dishes to a new audience through Eat Offbeat. 
"We want to go beyond New York. And that's the plan, but that's going to take a while," Kahi said. "In the meantime, we thought we'd create a cookbook so we can reach everyone, wherever they may be. ... We hope [Americans] will see our chefs for the heroes that they are, and for the chefs that they have become."
Old and new cuisine will collide in the cookbook, which will showcase not only the refugee chefs' passed down family recipes, but also some recipes created in the Eat Offbeat kitchen in New York. For example, this Nepali-Syrian fusion edamame salad:
With Nepalese chari bari (meatballs), edamame salad, baklava, potato kibbeh and Iraqui biriyani, the current Eat Offbeat menu is pretty delectable. Odds are the cookbook will be nothing short of mouthwatering. 
"We hope that the cookbook will shatter any preconceptions [Americans] might have, through food and simple human stories," Kahi said. 
Eat Offbeat sweetens the deal, too — 10% of cookbook proceeds will be donated to the International Rescue Committee, which helps people who live in areas affected by humanitarian crisis. 
What will Eat Offbeat do if they raise more than their goal of $50,000? "The plan is to hire more and more chefs!" Kahi said, explaining that adding more chefs would allow for an even more diverse the food selection. Plus, the team has a few stretch goals that they'll announce as the Kickstarter campaign progresses, Kahi said, noting that one goal includes an online recipe video channel.