Transgender woman Dandara dos Santos beaten and killed in Brazil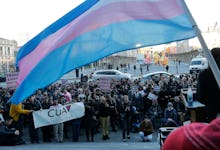 Transgender woman Dandara dos Santos was physically tortured, shot and killed on Feb. 15 in Fortaleza, Brazil. But it's the cellphone video showing the savage beating now circulating on social media that has brought dos Santos' death into the global spotlight, the New York Times reported. 
The video led to the arrests of three teenagers and two men for the crime, but Brazilian authorities are still looking for more people in connection with the homicide. 
"Any act that seeks to destroy life has my deepest disgust," Camilo Santana, the governor of Ceará, wrote in a Facebook post about the incident. "We will not tolerate this kind of violence." 
The video showing dos Santos on the ground being viciously beaten and kicked has garnered international attention, but many online felt the video didn't need to go viral for people to understand the harrowing reality of anti-trans violence. 
Brazilian website Rede Trans, which monitors anti-trans violence, reported that 144 transgender people were killed in Brazil in 2016. 
The United States is experiencing an epidemic of transgender violence, as well. In 2016, Mic documented the epidemic in its project, Unerased: Counting Transgender Lives. Seven transgender women of color in the U.S. have already been killed in 2017.