17 migrants rescued from blizzard as they attempted to flee the US for Canada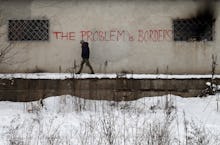 Firefighters from Emerson, Canada, were dispatched during a raging blizzard on Wednesday morning to rescue 17 Syrian migrants, including a 1-year-old child and a pregnant woman, who had gotten stranded during an attempt to flee the United States for Canada.
The Washington Post reported that temperatures were in the single digits when rescue workers found the migrants huddled in a storage shed on the outskirts of the Manitoba town, which has a population of less than 700.
Since his inauguration, President Donald Trump has taken a hard line on immigration, while Canadian President Justin Trudeau has been welcoming. The Canadian government resettled more than 35,745 Syrian refugees in 2016, while the United States accepted 13,210. 
Asylum seekers seem to have noticed. More than 200 people have crossed the seldom-patrolled U.S.-Canada border near Emerson since the beginning of 2017, according to the Post. 
Once across the border, migrants are frequently apprehended by law enforcement, and can apply for Canadian asylum from there. 
According to CBC News, asylum requests have skyrocketed in the province of Quebec in particular, which saw six times more refugee claims in February 2017 than it did in 2016. Manitoba, where the town of Emerson is located, has also seen surging numbers of refugee claimants.
Rita Chahal, executive director of the Manitoba Interfaith Immigration Council, told the CBC how asylum seekers are "arriving in a variety of ways."
"Many of them are walking through fields and finding other ways to get in; not stopping at the border, but coming straight to Winnipeg," Chahal said.
"Others are making a claim at the Emerson border and then either find a ride to Winnipeg, or in some cases, we have gone down to the border and picked up clients and brought them here," she continued. "But a lot of them are walking, yes."
Although the Royal Canadian Mounted Police strongly discourage migrants from attempting the dangerous border crossing in such harsh conditions, Mohamud Noor, executive director of the Confederation of Somali Community in Minnesota, told the CBC that vulnerable refugee populations seldom feel as if they have a choice, according to the Post.
"Because they don't have enough resources and they believe that's the only chance that they have, they'll take whatever risk that they can encounter," he said.