Amal Clooney gives speech about ISIS at UN, news sites focus on her "baby bump" instead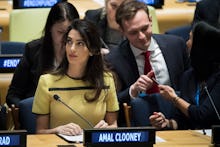 Internationally renowned human rights lawyer Amal Clooney gave an impassioned speech at the United Nations Thursday, urging the organization to investigate crimes committed by ISIS in Iraq.
Yet here's how some news sites chose to cover the event:
Rather than highlight the substance of Clooney's speech, multiple news and entertainment publications chose to focus on her "baby bump" instead. Clooney is expecting twins with her husband, actor George Clooney. 
Here are some of the headlines that circulated in the days before — and on the day of — Clooney's UN speech:
Remarkably, most of these stories acknowledge that Clooney was indeed visiting the UN, suggesting at least partial awareness that she was on official business. Yet as is often the case with women, these observers seemed more interested in her physical appearance and personal life than her professional accomplishments. 
Twitter users were quick to highlight this sexist double standard to Time:
TIME updated the post late Thursday morning with a new headline.
Amal Clooney is no stranger to this dynamic. In 2015, the Associated Press drew similar criticism for posting a tweet about the human rights lawyer referring to her as an "actor's wife."
Yet despite it all, Clooney's dogged efforts to investigate ISIS continue.
"I am speaking to you, the Iraqi government, and to you, U.N. member states, when I ask: Why? Why has nothing been done?" Clooney said to the UN Thursday, according to the Washington Post. "Don't let ISIS get away with genocide."
March 10, 2017, 11:11 a.m.: This post has been updated.