Is Glenn Howerton leaving 'It's Always Sunny in Philadelphia'? How Dennis was written off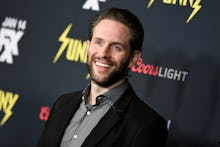 It's Always Sunny in Philadelphia, the unapologetically raunchy comedy following a group of friends in the titular city, is facing an uncertain future. 
The politically incorrect gang who owns Paddy's Irish bar — Dennis, played by Glenn Howerton; Charlie, played by Charlie Day; Mac, played by Rob McElhenney; Dee, played by Kaitlin Olson; and Frank, played by Danny DeVito — ended season 12 with a sudden separation when Dennis left town to spend time with the child he hadn't known about. And in an interview with Uproxx, Howerton said he's unsure whether he will return.
The show has been renewed through season 14, but Howerton just signed on to an untitled NBC pilot with Patton Oswalt. With the show going on "extended hiatus," Howerton's return will depend on the future of the group and of Dennis himself. 
Dennis' character often displayed common traits of narcissism and sociopathy, and his sudden acceptance of responsibility and maturity came as a surprise to some viewers who had grown accustomed to the self-centered, insensitive group of friends, each of whom has committed some truly horrific acts over the past 12 seasons. 
"I'm just a big fan of subverting expectations whenever possible," Howerton told Uproxx about the season 12 finale. "It just makes for interesting drama, comedy, whatever you have it in entertainment. And in comedy, I have a great affinity for trying to surprise people and do the exact opposite of what people expect. In my mind, I like the idea of taking a character who we've built up to be potentially a serial killer and realize that it may be the exact opposite. He may be an extraordinarily fragile and emotional person who has created a shell around himself to try to protect himself."
Mic has ongoing TV coverage. Please follow our main TV hub here.