When will 'Game of Thrones' season 7 premiere? Release date confirms summer launch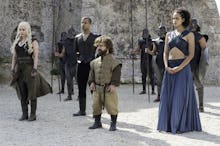 It has been quite awhile since the explosive (literally) finale of Game of Thrones' sixth season. Since then, fans have wondered when the series would return for what, sadly, will be its second-to-last season. Well, after months of speculation, we now the know the answer. It was just announced on the Game of Thrones Facebook page that the penultimate season will premiere on Sunday, July 16.
The Game of Thrones Facebook page went live at 2 p.m. Eastern on Thursday to make the announcement. 
"Take what is yours," a pinned comment from the page read. "Type 'FIRE' in the comments to help reveal the #GoTS7 premiere date." 
Viewers typed the word "fire" in the comments section to trigger the flames to melt a huge block of ice, which held the answer of the premiere date. Bran actor Isaac Hempstead Wright even jumped in to help fans.
"The Knight King is up to no good," Wright told those tuning in. "I'd like it if everyone would join me to help melt this ice block. Join in by typing fire."
It had been known for quite some time that Game of Thrones' seventh season would begin later than prior seasons, as warm weather on location led to production delays (when Winter is coming you have to wait for winter). But with a release date now set — even if it is later than we would have hoped — we can now get back to speculating on what, or who, is still to come in Westeros. 
Given how season six ended, it may seem cruel for this to be the year we have to wait so long for our favorite still-living characters to return — after all, there's only a few left. But we can take solace in knowing these last two seasons could be the biggest yet. 
As for what there is to look forward to, if things stay as they were when season seven does finally begin, Cersei Lannister will be atop the Iron Throne, Jon Snow will be the King in the North and Daenerys may finally arrive in Westeros to reclaim her birthright. 
It is also safe to assume that we will be treated to some epic battle sequences. We should also probably prepare ourselves for a heart wrenching death, because, well, you know. 
What is for sure, though, is that July 16 cannot come soon enough!
Mic has ongoing coverage of Game of Thrones. Please follow our main Game of Thrones hub here.