New study shows Android smartphones are more reliable than iPhones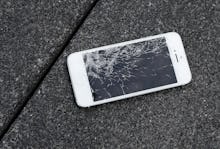 There's no clear-cut answer to the debate between Android loyalists and iPhone enthusiasts about which smartphones are better. Each side can make compelling points as to why one device is superior to the other.
Now, there's some factual indication about which smartphone comes out on top. According to research by Blancco Technology Group, Android devices are more reliable than iPhone handsets.
The defining factor is the devices' failure rate — a broad term defined for the study as whenever a smartphone doesn't work as it's supposed to, whether it be camera issues or battery malfunctions. As reported by BGR, the overall failure rate is higher in iPhones (62%) than in competing Android devices (47%). Of all iPhone devices, the iPhone 6 fared the worst.
What's more, iOS users experienced an increasing number of failures with each quarter in 2016. "The iPhone 6 has been the worst performing iOS device consecutively for four quarters with the highest failure rate compared to other models," the report stated, "[with] 25% in Q1 2016, 29% in Q2 2016, 13% in Q3 2016 and 15% in Q4 2016."
As for the what caused the Android failures, a bulk of the mishaps related to camera performance, battery charging and "USB glitches," according to BGR.