The 5 biggest student loan myths: Never fall for these falsehoods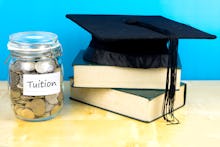 The stark numbers on student loan debt show just how bad the crisis has become. Slammed with $1.3 trillion in total student debt, more than 3,000 people a day defaulted on their loans in 2016, according to Education Department data released in early March.
Every year, the class of college graduates takes the place of the previous one as the most indebted in history. While sky-high tuition is certainly a problem, many borrowers — who average $37,172 in loans, according to a May analysis — simply don't realize what they're getting themselves into. 
A recent LendEDU survey of more than 500 college students showed some troubling misconceptions about how student loans work — from the length of repayment plans to what happens if you can't pay.
Below are five myths about student loans you shouldn't believe.
1. Your loans will be forgiven if you can't pay. 
About half of the students LendEDU surveyed said they believed federal student loan forgiveness programs would help them after graduation. Unfortunately, loan forgiveness rules are notoriously strict.
When it comes to loan forgiveness for those working in public service, for example, only "a very small percentage of graduates will even qualify," LendEDU noted. That's because you can only get your loans forgiven after you've made 120 payments while also employed full-time in public service. 
Other circumstances that may qualify for loan forgiveness include working as a teacher for low-income students, becoming fully disabled or, very rarely, declaring bankruptcy. You're also off the hook if your school closes during your enrollment. Use this helpful chart to see your options.
But the reality is most people have to pay back student loans all on their own.
2. You won't have to pay back much interest because interest rates are low now.
Student loan rates are fixed when you receive the money, and with interest rates at historic lows, it's a good time to be borrowing. However, even low rates can add up to thousands of extra dollars on top of the principal balance.
For example, if you take out one of the cheapest federal loans — a $30,000 no-fee loan at a rate of 3.76% — you'll still pay $6,038.92 in interest over the course of 10 years, included in your $300.33 monthly payments.
Most students have no idea how interest affects them: 80% of those surveyed by LendEDU didn't know current interest rates for federal loans, both subsidized and unsubsidized. Perkins loans, which are only available for students with "exceptional financial need," have a fixed 5% interest rate. Rates for other types of loans can range anywhere from 3.76% to 6.31%. Here are the rates through July 1, 2017:
3. You'll pay off your loan in 10 years.
Most students have no idea how long it takes to pay off student debt. In fact, 79% of LendEDU respondents couldn't identify current repayment terms for federal loans. While the typical loan period is 10 years, research shows the average bachelor's degree recipient takes 21 years to pay off their loans, according to US News & World Report.
With loan payments averaging $351 a month for borrowers between the ages of 20 and 30, many people opt to extend their repayment period to help lower their monthly bills.
4. Deferring loan repayment puts interest on hold, too.
Even though you can sometimes put off loan payments temporarily, that doesn't mean interest also comes to a halt. When asked about how interest works during periods of deferment, 44% of LendEDU survey respondents didn't understand that interest keeps accruing on certain loans. 
Deferment allows you to pause your payments if you're unemployed, in school, in the military or Peace Corps, receiving SNAP benefits or if your income is less than 150% of the poverty level. 
But here's the rub: "If you have federal unsubsidized loans, however, you will have to pay the interest that accrues while your loans are in deferment. That interest will be capitalized, or added to your balance, when your loans enter repayment again," according to NerdWallet. 
5. You can refinance a federal student loan.
Roughly two-thirds (64%) of survey respondents said they thought it was possible to refinance their federal student loan debt with the government. 
"There is no federal refinancing," wrote Ryan Lane for U.S. News & World Report. "Congress sets the interest rate for federal student loans, and most of these rates are fixed by law, no matter how solid your credit or income becomes postgraduation."
There are private refinancing options and you can consolidate multiple federal loans into one for easier payment, but that won't lower your interest rates. Your best bet is to be mindful from the get-go about how much debt you take on — and to do everything you can to keep that figure as low as possible.
Sign up for The Payoff — your weekly crash course on how to live your best financial life. Additionally, for all your burning money questions, check out Mic's credit, savings, career, investing and health care hubs for more information — that pays off.