'Game of Thrones' season 7 Facebook Live announcement hits "fire" glitch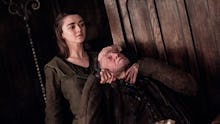 Over 100,000 Game of Thrones fans tuned into the HBO show's official Facebook page on Thursday to find out the season seven premiere date. The site launched a live video to make the announcement, but the video hit a glitch 15 minutes in. The live video shut off without revealing the premiere date for the highly anticipated seventh season, and the page posted a note for fans: "We will be back and ready for more fire soon #GoTS7."
The Facebook Live video began with a large block of ice that appeared to hold the premiere date for season seven. Facebook users were supposed to type the word "fire," which would trigger a flame to melt the ice and reveal the date. After 15 minutes, the ice block was still no closer to revealing the date. 
The page has since updated their video, posting the following message for viewers: "Dracarys! There's so much fire from the realm. We're back and ready for more." A second flame joined the first one to speed along the process — but just like the first live video, the second one also cut out.
Shortly before 3 p.m. Eastern, the page posted a third live video. It was finally revealed at 3:10 p.m. Eastern that season seven of Game of Thrones will premiere on July 16.
Thursday, March 9, 3:12 p.m. Eastern: This story has been updated.