Lorde "Liability" Lyrics: Every verse to her heartbreaking second single 'Melodrama'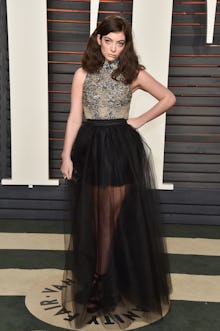 Lorde raced back into our lives earlier in March, dancing like a maniac with "Green Light," her first single in three years. Now she's ready for a good, rib-cracking cry.
On Thursday, she premiered her second single off her upcoming Melodrama — a soft, piano-driven song titled "Liability" — on Zane Lowe's Beats Radio 1. It's the static, cold yin to the yang of her first single. 
"I had this realization where I was like, because of my lifestyle and what I do for work, there's going to be a point with every person around me where I'm going to be a tax on them in some way," Lorde told Lowe about the single. "If it's them having to give a little bit of their privacy or their life becoming more difficult or whatever, it was this moment of sadness, and I remember it so vividly."
She even remembers the song she was listening to at the time — Rihanna's "Higher," one of the desperate, confessional ballads that ends Anti.
Lorde's single matches the kind of frenzied, drunken stagger to Rihanna's ballad, as the New Zealand singer mourns the fact that her stardom is a potential liability to every one who's stuck by her.
In conversation with Lowe, she also revealed Melodrama's release date: June 16, right as the summer begins to get underway in earnest.
Read the "Liability" lyrics via Genius
[Verse 1]
More Lorde news and updates
Mic has ongoing coverage of Lorde's 2017 reign. Check out the teaser video she dropped leading up to "Green Light," watch the single's video and read the lyrics. Check out a roundup of past rumors  surrounding her upcoming album, along with news about her upcoming Coachella performance.