At least 4 states join lawsuit to challenge Donald Trump's new travel ban in court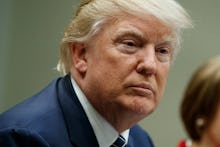 Washington, Minnesota, New York and Oregon have joined a lawsuit to challenge the latest iteration of President Donald Trump's travel ban in court, Politico reported.
Trump's original travel ban was blocked by the 9th Circuit Court of Appeals in February, which meant it was back to the drawing board for an administration bent on restricting the travel and visa privileges of anyone hailing from seven Muslim-majority countries.
On Monday, Trump announced a revised ban to go into effect on March 16, which excludes restrictions for people from Iraq and removes the indefinite ban on Syrian refugees. But if Trump had hoped to avoid legal troubles with the new revision, Thursday's news spells trouble.
Washington state Attorney General Bob Ferguson told reporters it's his belief the revised ban suffers from the same problems as the old one.
"We're asserting that the president cannot unilaterally declare himself free of the court's restraining order and injunction," Ferguson said during a Thursday press conference, according to Politico. 
Washington was the first state to file a suit over Trump's original travel ban and succeeded in temporarily blocking the ban on Feb. 3 when James Robart of Federal District Court for the Western District of Washington handed down his decision.
"It's our view that temporary restraining order that we've already obtained remains in effect."
Hawaii has filed its own lawsuit against Trump's new ban, which a federal judge is slated to hear just hours before it will go into effect.
According to CNN, Hawaii Attorney General Douglas Chin's suit alleges two sections of Trump's order are in violation of constitutional and federal laws, which forbid discrimination based on nationality.
"The executive order means that thousands of individuals across the United States and in Hawaii who have immediate family members living in the affected countries will now be unable to receive visits from those persons or to be reunited with them in the United States," Chin wrote in the filings.
Ferguson said there may still be other states ready to legally challenge Trump's revised ban, meaning Trump's all-caps promise to "See you in court" may come true in ways he never expected.