Here's why Mark Zuckerberg and Priscilla Chan are excited their new baby is another girl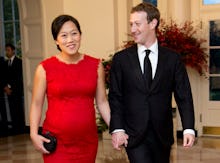 Facebook co-founder and tech billionaire Mark Zuckerberg announced on Thursday that he and wife Priscilla Chan, a pediatrician, are expecting a second baby — and Zuck is extra excited that it's another girl. The couple has one child already: Maxima Chan Zuckerberg, born in 2015.
Zuckerberg announced the new baby news in a post on — where else? — his Facebook page, saying that when they first learned Chan was pregnant, "our first hope was that the child would be healthy. My next hope was that it would be a girl."
In Zuckerberg's Facebook post, he shared that both he and Chan grew up with sisters.
"I cannot think of a greater gift than having a sister and I'm so happy Max and our new child will have each other," he wrote.
Zuckerberg described how his three sisters taught him "to learn from smart, strong women." One of his sisters, Randi Zuckerberg, worked alongside her brother as one of Facebook's earliest employees and is now the founder and CEO of her own media company.
Zuckerberg and Chan also used Facebook to announce their first pregnancy back in 2015. In that post, Zuckerberg opened up about their fertility struggles and the multiple miscarriages Chan had before getting pregnant with their daughter, Max.
In his new baby news announcement on Thursday, Zuckerberg ended the post by saying, "We are all better people because of the strong women in our lives — sisters, mothers and friends. We can't wait to welcome our new little one and do our best to raise another strong woman."