'Big Little Lies' Episode 4 Recap: Celeste gets to work and Madeline celebrates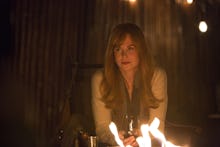 Madeline Martha Mackenzie, protagonist of HBO's Big Little Lies, knows death threats are only to be made in private.
"So help me, if she so much as teaches me to peel a potato, I'm gonna go for her fucking throat," she says of Bonnie Carlson, her ex-husband Nathan's new wife. Nathan has invited Madeline and her new husband Ed over for dinner — albeit at Bonnie's insistence — and Madeline is already assuming the worst of Bonnie, in quite explicit fashion.
But later, when Madeline and Jane Chapman are engaging in a little stress relief, cursing loudly and wildly about Jane's rapist, Jane takes it too far for Madeline, saying she'd kill the man if given the chance.
"I wouldn't say that loudly in public spaces," Madeline says, voice lowered. Jane insists it's a joke, but Madeline is cautious. It's not that she thinks Jane would actually murder someone. It's that the younger mom is just a bit more explicit than the image-conscious Madeline is used to.
The blurring of lines between public and private — and what exactly public and private even are — is a major theme of Big Little Lies' fourth episode. The other is these women's need for awakening in their lives. Whether it's cursing out an anonymous rapist or screaming in their cars in victory, Madeline, Jane and their third musketeer Celeste Wright let it out this week — but preferably when in trusted company.
Publicly, Celeste and Perry Wright have a fabulous, sexy marriage. They're devoted to each other in every way, to the disgust of Monterey Bay's Greek chorus of parents. Of course, as we've seen in the three episodes so far, their perfection is a façade. Perry is abusive, controlling and possessive. Even her best friend Madeline doesn't know that.
So when Celeste goes to bat for Madeline this episode, picking up her lawyer's briefcase once again to defend her friend's right to put on a community production of Avenue Q, Perry panics. He asks probing questions and acts generally uncomfortable with the idea of her returning to work. 
"You gonna hit me now?" Celeste taunts him, terror never quite leaving her eyes. It takes all episode before he does finally hit her again, but through sex scenes and conversations, it feels inevitable — like she, and we, are just waiting for him to take it too far. "I'm not afraid," Celeste insists to her therapist at the end of the episode, but her fear-stricken glances and gazes throughout this chapter tell a different story.
This episode offers our first look at what Celeste's life would be like free of Perry's grasp, and it's a thrilling one. Her work in the meeting with the mayor as Avenue Q's informal counselor is like watching a chess master play. Unlike Madeline, who comes close to flying off the handle repeatedly, Celeste never raises her voice. She combats Renata Klein, at her peak obsequiousness as she fawns over the mayor, on her terms. She's polite, smiling and thoughtful.
Then, Celeste clears her throat. "But, opinions aside," she says. "Legally, you've already lost."
Much has been made of Reese Witherspoon and Nicole Kidman's performances individually, but they play Madeline and Celeste's friendship so well in this episode. Madeline grows increasingly impressed, then proud, of Celeste as she watches her friend go to town. "You were fucking brilliant," she screams in the car. They bond over their desire for more; though they love raising their kids, they yearn to feel alive through work. They shout and honk Madeline's car horn in joint catharsis.
The two actresses are equally great giggling over Madeline's accidental liaison with Avenue Q's director. That scene is particularly fascinating, because again, Madeline doesn't say everything. Even with her best friend, she conceals some details of the fling, only revealed to the audience in flashback. Later, we find out Madeline and the director had an affair last year, too — again, something Celeste doesn't know about. There are layers to her life.
The rest of this episode is a little uneven. Shailene Woodley remains her best as Jane when acting opposite Witherspoon, but much of Jane's story, outside of her and Madeline's coffee date, strands her on her own this week. Adam Scott remains quirky and fun as Ed, but his scene opposite Zoë Kravitz's Bonnie is unfortunately flat. James Tupper remains the cast's one true dud as Nathan; he's pretty bad in his opening scene with Witherspoon.
But those minor flaws can't sink an installment that digs deeper into Celeste and Madeline's friendship, giving two actresses at the top of their game some deep, meaty material to sink their teeth into. That's the true joy of Big Little Lies: No matter how much they hide from each other, we know their friendship will overcome all.
Mic has ongoing Big Little Lies coverage. Please follow our main Big Little Lies hub here.