Dusseldorf Attack: Multiple injuries reported after ax rampage at Germany train station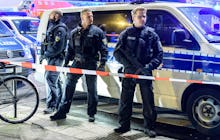 Multiple people were injured during an ax attack at a train station in Dusseldorf, Germany on Thursday, the Associated Press reported. A federal police spokesman said two suspects had been arrested in connection with the attack.
More suspected attackers are believed to be at large, police spokesman Rainer Kerstiens initially told the AP. Kerstiens estimated around five people were injured.
A statement from the Dusseldorf police posted online later Thursday identified the suspect as "a 36-year-old man from the former Yugoslavia who lives in Wuppertal" and went on to say the man appeared to be mentally ill.
The police statement said a total of seven people had been injured in the attack, three seriously.
The motive for the rampage wasn't immediately clear, but the incident sparked chaos at the station in Dusseldorf, a city of about 594,000 in Western Germany.
The German news outlet Bild reported heavily armed police flooding the station. The outlet quoted a transit agent describing the scene after a man leaped out of a car and went on the attack.
"There was blood everywhere," the agent said.
NBC News earlier noted the attack came less than a year after "three Syrian men believed to be affiliated with ISIS were arrested on suspicion of plotting a terrorist attack in Dusseldorf."
This is a breaking story and will be updated.