Military's nude-photo scandal extends beyond Marine Corps, according to new report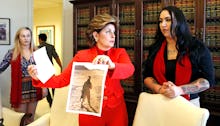 The nude-photo scandal rocking the U.S. Marine Corps is far bigger than first believed, according to a new report out Thursday.
Active-duty and veteran Marines have already been implicated in the widespread posting of photos of female colleagues and other women, along with suggestive, or even violent, comments about them.
But "the practice of sharing such photos goes beyond the Marine Corps and one Facebook group," Business Insider reported Thursday. 
"Hundreds of nude photos of female service members from every military branch have been posted to an image-sharing message board that dates back to at least May."
The Business Insider piece comes days after an exposé on the photo-sharing by The War Horse. That investigation said hundreds, if not thousands, of photos had been shared via a Marines United Facebook group and Google Drive.
Marine Corps Times reported Sunday that the Corps had launched an investigation into a scandal "mostly comprising active-duty U.S. Marines, Marine Corps veterans and British Royal Marines."
Women who say their photos were shared without consent also appeared with Attorney Gloria Allred at a news conference Wednesday.
Business Insider reported details about a site, AnonIB, that "has a dedicated board for military personnel that features dozens of threaded conversations among men, many of whom ask for 'wins' — naked photographs — of specific female service members." 
The photos often include the names of the women pictured or where they're stationed.
Despite a sharp reprimand and condemnation of the photo-sharing by Gen. Robert Neller, commandant of the Marine Corps, CBS News reported Thursday that "Marine officials say they have received reports of at least a half dozen other sites."
Thursday night, the Corps also turned to Twitter to note that the Naval Criminal Investigative Service "provides the ability to report crimes and assistance to victims of those effected by Marines United and other unofficial pages."
The tweet included a link to an NCIS page with guidelines for reporting crimes via web, text and app.