Impeached South Korean President Park Geun-hye forced out by court amid corruption scandal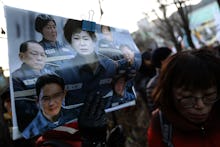 A constitutional court has forced out South Korean President Park Geun-hye amid a government corruption scandal that has roiled the nation.
"The verdict puts South Korea at a historic juncture, with many hoping it will be a harbinger of reform in a nation plagued by graft and cronyism," the Financial Times reported as news of the ouster, which leaves Park open to potential criminal charges, circled the globe.
Park is the daughter of former President Park Chung-hee, who seized power in a 1961 military coup. 
She became South Korea's first woman leader after winning the 2012 election with 51.6% of the vote, defeating former human-rights lawyer Moon Jae-in.
Park also now has the dubious distinction of being the nation's first democratically elected leader to be expelled from the Blue House.
Demonstrators have taken to the streets by the hundreds of thousands to demand Park's removal and anti-corruption reforms.
The court ruling, reached Friday in South Korea, upheld a December legislative vote to impeach Park. She could now see prosecutors go after her for allegedly using her office to engage in bribery and extortion in partnership with close friend Choi Soon-sil.
Both Choi, who has already been charged, and Park have denied trading government favors for kickbacks, according to the BBC. The scandal has also engulfed a group of executives at tech giant Samsung.
In the wake of the court ruling, South Korea must elect a new president within 60 days," the New York Times reported. "The acting president, Hwang Kyo-ahn, an ally of Ms. Park's, will remain in office in the interim."
Park's expulsion comes at a critical time in U.S. relations with South Korea.
The United States is the process of assembling a missile defense system, THAAD, in South Korea to counter North Korean missile launches.