Meet Kathryn Allen, who's raised $400,000 in a longshot attempt to unseat Jason Chaffetz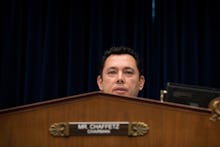 Rep. Jason Chaffetz, a Republican congressman from Utah, has a pretty secure political position. He hails from a deeply red state and closed 2016 with $400,000 on hand for his 2018 re-election campaign. 
But all that was before a string of bad news for Chaffetz and a burgeoning Democratic opponent — one he helped, through his own gaffe, burst onto the scene.
Dr. Kathryn Allen, who wants to unseat Chaffetz in the midterms, found herself in the money after the incumbent Republican sparked outrage over proposed GOP health care reforms. 
As Mic previously reported, after Chaffetz made an ill-received remark that cash-strapped Americans might have to choose between buying health coverage and snagging a new iPhone, Allen's Crowdpac fundraising page roared to life with support from offended donors.
By March 7, when she spoke with Mic, her Crowdpac haul had leapt from the $15,000 or so she'd reaped since Feb. 11 to more than $50,000. That spurred the self-admitted underdog to file formal paperwork for a Chaffetz challenge in Utah's District 3.
By late Thursday, Allen had gained notice in outlets from The Deseret News to the Huffington Post and scored a shoutout from MSNBC's Rachel Maddow — and her Crowdpac total has now topped $400,000 from more than 11,000 donors. (She also opened an ActBlue fundraising page, but a spokesman for the platform said it does not reveal donation totals for candidates who use it.)
Who is Kathryn Allen?
Kathryn Allen, who goes by Kathie, is a physician with 30 years of experience, mostly as a family practitioner, according to a local CBS affiliate in Utah. She originally came from California, attending college and medical school in the state's Inland Empire, an area east of Los Angeles, a local newspaper from Redlands, California, reported. 
"Immediately after college, my first employment was as a Congressional Aide to Honorable Shirley N. Pettis, of the 37th Congressional District of California, my native state," Allen wrote in an online biography on Facebook. "I worked in this capacity for about 3 years, and learned a great deal about how the federal government functions and fails to function."
After medical school, according to the online bio, Allen moved to Salt Lake City, Utah, for her residency and settled in the Beehive State. She ran a private family medicine practice, but eventually sold it with the intention of staying on. 
That didn't last, and she moved on to work in a clinic that serves employees of the Utah Transit Authority. 
"I kind of felt driven out of private practice by the overregulation and the difficulty to make ends meet and I sold my practice to a large corporation. I despised working for them because it was all about greed and profit," she said in an interview.
Allen said she was at the now-infamous town hall meeting where an overflow crowd shouted Chaffetz down. 
Chaffetz dismissed the angry constituents as paid protesters who were trying "to bully and intimidate" him — but would not provide evidence to back that up. 
Allen didn't take the allegation "that we were paid protesters" lying down. It fueled her urge to join the race to unseat Chaffetz. 
Then came the famous iPhone gaffe and, subsequently, Allen's record-breaking political fundraising.
A longshot
Chaffetz's congressional and campaign offices left several Mic inquiries about Allen unanswered this week. But there are a lot of reasons, Utah scholars said, why Allen's newfound political fortunes may not end up a Cinderella story.
"A Democrat with a large campaign war chest may be able to move the needle some and require Chaffetz to actually campaign and fundraise, but I just do not see UT3 going blue anytime in the near future," Jessica Preece, who teaches political science at Brigham Young University, said in an email.
"Money can help you get name recognition and it can help you mobilize your supporters to get out and vote," Preece added. "But even with a lot of money, it would still be very difficult to persuade Utahns in the 3rd District to vote for a Democrat in large numbers. Ideologically, it's just not a great fit."
Preece's conclusion: "The most likely way to unseat Jason Chaffetz would be for an experienced anti-Trump Republican to challenge him in a primary election battle." 
Utahns voted for Republican Donald Trump over Democrat Hillary Clinton by about 46% to 28% in the 2016 presidential race, according to RealClearPolitics. 
By comparison, Clinton won about 48% of the national popular vote to Trump's 46%. (That edge alone, obviously, was not enough to win — Trump emerged victorious thanks to the Electoral College.)
Utah government statistics show about 1.3 million active registered voters on the rolls. Of those, 645,000 are registered Republicans; just over 155,000 are Democrats. Nearly 496,000 are unaffiliated with a party.
Chaffetz's district, which re-elected him with about 73% of the vote last November, stretches south from Salt Lake City along Utah's eastern border. Populous northern areas of District 3, such as Utah County, are Republican strongholds, according to the most recent available maps. 
Southern counties in the district have more of a Democratic presence, but the population is smaller (and Chaffetz carried even those counties over Democratic challenger Stephen Tryon in November).
Aside from the GOP registration advantage and traditional difficulty of toppling an incumbent, there's another hitch: Unlike Chaffetz, Allen is not a member of the Latter-Day Saints Church in a Mormon-dominated state where religion matters.
In places like Utah County, which Matthew Burbank of the University of Utah called the "heart" of District 3, "those networks of people who are active in politics and active in the community, [they're] just overwhelmingly LDS," Burbank said by phone Thursday. 
"It's not to say that you couldn't, as a non-LDS person, get elected, but, you know, it's a tough road."
Democrats' plan
Allen, who says Chaffetz "has been deaf to the concerns of his constituents," is clearly channeling liberal outrage against the incumbent and his party. But her Crowdpac and Facebook pages are thick with support from people outside Utah — or in other words, people ineligible to vote for her next year.
The Democratic Congressional Campaign Committee didn't immediately respond to questions about Allen. Burbank said it's unlikely the DCCC will rush in to help her. If Democrats stood a shot at taking down an incumbent like Chaffetz, "would they take it? Absolutely," he said. "If they thought it was real, they would put money into it."
Still, given Chaffetz's ideological match with his conservative Republican district, his national profile and his existing fundraising network, Burbank said, "I think you'd have to do a lot of persuading."
Utah Democratic Party Chairman Peter Corroon said in a Friday phone interview that Allen's right about how terribly hard it will be to unseat Chaffetz. 
While her odds are long in such a conservative state, "I think Kathie Allen can beat him," he said. "She's well educated, smart, hard working and now has money to go along with that [to] help get her name out."
Corroon, who's the former mayor of Salt Lake County, said the state party will advise Allen on assembling a campaign team and give her access to helpful training and data. 
"The DCCC usually wants to see fundraising ability and poll numbers before they will come into a race," he said. "I think Dr. Allen's passing one hurdle for the DCCC, and the next hurdle for them to be involved will be to see close polls."
Chaffetz may not be up nights worrying about an Allen upset, but, Corroon said, "If a Democrat can raise over $300,000 in a few weeks, I think that would gain the attention of any Republican incumbent — especially in Utah."