Congress warns Donald Trump not to delete his tweets now that he's president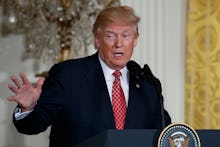 Deleting tweets might seem like a fairly benign exercise — especially if, say, you often fire them out at all hours of the day or night, with little thought given to their veracity or substance — but two top congressmen warned this week that it's probably against the law if you're the president of the United States. 
In a letter to White House counsel Donald McGahn II on Wednesday, Reps. Jason Chaffetz (R-Utah) and Elijah Cummings (D-Md.), of the House Oversight Committee warned that tweets could count as government record, and when President Donald Trump deletes his, he might be in violation of federal record-keeping laws.
Scrapping misspelled or hastily drafted tweets has been common practice for Trump in the past, including a recent instance where the word "hereby" had been incorrectly written as two words.
But if the accounts that the president uses, @realDonaldTrump and the official @POTUS handle, have not been backed up with data archiving capabilities, the representatives wrote, any deleted tweets could put him in violation of the law.
The letter also warns that encrypted messaging apps like Signal and Confide could also pose conflicts under the law.
"The need for data security, however, does not justify circumventing requirements established by federal recordkeeping and transparency laws," the lawmakers wrote.
Mic first reported on Trump's potential infractions back in January, after he deleted a tweet claiming he was "honered" to serve as the 45th president of the United States.