Here's the exact time daylight saving 2017 will take effect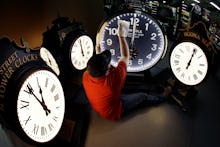 Ready your clocks and add an extra shot of espresso to your coffee: Daylight saving time is just around the corner, giving us an extra hour of daylight to enjoy in exchange for shaving off an hour of precious sleep starting Sunday, March 12.
According to the aptly named TimeAndDate.com, U.S. states will "spring forward" an hour at 2 a.m. on Sunday March 12 and then "fall back" an hour when daylight saving time ends on Nov. 5, 2017 — save Arizona and Hawaii, which don't observe daylight saving time. American territories, including Puerto Rico and Guam, do not observe daylight saving time.
In 1784, Benjamin Franklin joked that Parisians could reduce their candle usage if they just got out of bed earlier. In 1918, president Woodrow Wilson turned that joke into a reality by signing daylight saving – then called "Fast Time" – into law in an effort to conserve much-needed resources during World War I. Daylight saving was again put into practice in the U.S. during World War II and has stuck around ever since.
Despite the fact that some view it as pointless, worthless and a waste of time, deciding to not partake would put you out of sync with a majority of the United States for about half a year — and your phone probably wouldn't even let you get away with it. Unless you rely on your watch to get out of bed, there's little need to worry about oversleeping: Your cell phone will probably automatically make the switch for you.
Beyond just cutting sleep and making you groggy at work for a few days, daylight saving is a great opportunity to check smoke alarms, fire extinguishers, car batteries or schedule a bi-annual tooth cleaning. Anything that needs a six month checkup, daylight saving is an easy marker to remember when to get it all done.
Once your alarms are checked, your clocks are changed and your teeth are clean, you might enjoy checking out this petition to Congress. It currently boasts over 130,000 signatures begging Congress to "stop messing with our schedules" and to end the "antiquated practice" of daylight saving time.
Correction: March 13, 2017