H&M defies gender norms with its first ever unisex collection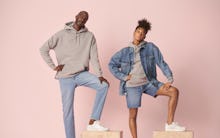 H&M has, at last, realized that the future of fashion really just might be genderless. 
On Wednesday, the retailer debuted plans for its first-ever unisex collection, a 19-piece collection of oversized-yet-stylish denim basics called Denim United. 
"It is very natural for us to launch a unisex collection as fashion is constantly evolving and intersecting and today we see there are no boundaries in democratic style," H&M spokesperson Marybeth Schmitt said in a press release. "Fashion should always be inclusive." 
And indeed, this collection, which will officially launch online on March 23, comes at a time when H&M is inching ahead of other major, mainstream retailers when it comes to being progressive and inclusive. It's the same brand, after all, that has had transgender models in its ads, as well as walking on its runways, and has featured hijabi models as well. 
Also, in debuting a gender neutral collection of its own, H&M is joining mainstream brands like Zara, which debuted its first ungendered collection this time last year. However, unlike Zara, which received heat for its super basic ungendered collection, H&M appears to at least be trying to push the boundaries when it comes to what's considered truly unisex clothing. 
For the first time in recent memory, this unisex collection includes a dress. 
And in a time when men wearing skirts still seems revolutionary, this matters. Because these dresses, for the first time ever, will be marketed towards everyone — not just women. 
In addition to the dresses, the collection has jeans, denim jackets and shorts: all basics that go along with the idea that unisex clothing definitely already exists, but it's just not marketed towards everyone regardless of their gender. 
With H&M clearly on its way to paving new fashion ground when it comes to clothing marketed towards everyone, it'll be interesting to see what other major retailers — Urban Outfitters, maybe? Forever21? — take note.