Nicki Minaj just bet Remy Ma $500,000 to drop a hit track in 72 hours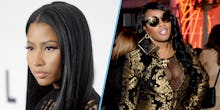 Nicki Minaj doesn't want any frauds — and she has the money to prove it. 
The rap superstar made a few verbal jabs on Thursday in the ongoing spar between her and rapper Remy Ma when she released three new singles — #3PackFromParis — all at once. 
But the real drama happened later in the early hours of Friday morning on Instagram. 
In a post that includes a lyric video of "No Frauds," Minaj took Ma to task and issued her a challenge: make a hit record and Ma gets half a million dollars.
"Diss records can't be lies," Minaj wrote. "Great diss records are facts. But here at Young Money, we don't do diss records, we drop hit records and diss you on them." 
Minaj's "No Frauds" is in line with her Instagram boast: She spends only a few bars addressing Ma, as opposed to Ma's now-infamous diss track #ShETHER, which saw the Bronx emcee attack Minaj for seven minutes. 
Minaj said she has more dirt on Ma. 
"The greats took three months to respond to diss records," Minaj said. "Queens don't move on peasant time. Queens shut down Paris, then drop hits on #QueenTime."
Minaj then alluded to the fact that, when her singles hit the Billboard charts, she will have surpassed R&B legend Aretha Franklin for most Hot 100 hits of all time by a female artist. Minaj tied the number only a few days ago. 
Finally, Minaj addressed Ma, who she referred to as Sheneneh, the comical character played by Martin Lawrence in the '90s TV show Martin. 
"Now I got a countdown of my own for Sheneneh," Minaj said. "You've got 72 hours to drop a hit and I'll give you half a million dollars if you can book any show or interview without mentioning the Queen's name." 
Minaj then mentioned her own upcoming album, which she said is "nothing but waves."