Nicki Minaj's "No Frauds" broke diss track tradition, turned it into something more lethal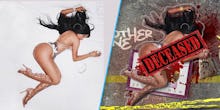 The hip-hop world has underestimated Nicki Minaj for what will likely be the last time. Few suspected the Trini rap queen would ever attempt to respond to Remy Ma's kneecap-rearranging low blows, which came in the form of "Shether," one of the most savage diss tracks in modern memory, and "Another One," a less effective scrap that only reminded the world Remy too suffers from hubris, like all great heroes and villains. Minaj doesn't write like that. As Mic has already noted — she's too big to fail; she plays by pop's rules, which answers to spins and the charts, not hip-hop's honor code, pundits said.
However, all this think-piecing should have been a signal to onlookers: If there's a headline to be grabbed, a pop star will grab it. She just had to rewrite the rules of the cypher to make sure she could win. Thursday night, Minaj released three new tracks, with one, "No Frauds," answering Ma's most damaging jabs. Adding social media insult to injury, she did up a quick Instagram lyric video for the event, challenging Ma to come up with a hit in 72 hours.
"And I'll give u half a million dollars if u can book ANY show or interview w/o mentioning the Queen name," she wrote. 
It read like Future's Instagram mob come to life and it served a sign that the diss track has entered an entirely new era — one that fits hip-hop's global pop status. The stakes higher and the standards for lyrical excellence are lower than the originators of the practice likely ever imagined.
According to classic hip-hop's unwritten rules, when someone comes for you as direct as Ma did with "Shether," spilling all the gossip and calling you fake in body, mind and spirit, you stand your ground and charge back harder. It's what Nas did with his original "Ether," what Ice Cube did with "No Vaseline" — they beat down their rivals with brute lyrical force and let the critics decide who took the L.
Minaj sees a different future.
"Here @ Young Money, we don't do diss records," Minaj wrote on Instagram. "We drop HIT RECORDS & diss u ON them."
She gave Ma 24 bars, a minute-and-a-half, a pocket change donation to the Remy publicity fund, especially puny when compared to Ma's thorough, surgical, seven-minute "Shether." Minaj brought an outside party into the equation, filling out the rest of the song's runtime with aimless verses from Lil Wayne and Drake. Why? To prove she can. No one will ever come to this song to hear Drake talking about how his "net worth sound like grrrrrr." But they will do the song the favor of creating more buzz, encouraging more fans to join the #NoFraudsIsNumberOneParty, launching the song ever higher up the charts. 
After only 12 hours out in the world, it was already No. 1 on iTunes in the U.S.
Everyone in the radio-listening world will hear "No Frauds." The snappy auto-tuned hook all but assures the song will stay winning on the charts for weeks to come. It will probably help Minaj break the record for most Billboard Hot 100 chart entries she now shares with Aretha Franklin. 
Can anything similar be said for "Shether"? No. It's hardly necessary to listen to the track more than once, even if, bar-for-bar, it has far more deft wordplay. Minaj only has one winning double entendre on "No Frauds" — "Heard your pussy on 'Yuck,' I guess you needed a Pap," a play on pap smear and Papoose, Ma's husband's rap name — which she unpacked for her fans on Instagram, like a kindergarten teacher helping their students open tedious packaging. 
However, judging a winner in this scenario is no longer in the critic's hands. Minaj wants the popular vote to decide.
This was a diss track for the hip-hop illiterate. But in a way that makes it an even bigger threat to Remy's career. Few of those impressed by "No Frauds" will come to "Shether" and think Ma is worth getting to know as an artist, shutting out a large swath of new fans she could likely use. 
Note that Minaj also demanded Remy come up with a hit, not just a track, not just bars. That will be tough. Remy doesn't have the distribution, she doesn't have the major alliances with hitmakers, like Drake and Wayne. Minaj has re-written the rules of this battle play to her strengths.
It fits the culture as well. In an age where memes can send a song to No. 1 and artists can earn Grammy nominations with albums specifically engineered to break chart records, this is how you claim a throne. You make history out of your rival and make the act of dragging them fun for the widest swath of listeners that you can. Then sit back and watch a rapper scramble to learn how to use auto-tune.
More Nicki Minaj news and updates
Mic has ongoing coverage of Queen Nicki Minaj's reign. Read an analysis of her latest charting song "Make Love," a rundown of her best quotes shutting down sexism and speaking fierce, feminist truths and a clip of her roasting Donald Trump for his "bad hombres" comment from the third presidential debate. Also check out a rundown of eight songs that prove she's the queen of rap and a look at everything we know about her coming album.