#NoDAPL marches and other protests set for DC, LA and NYC this weekend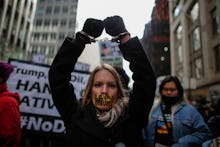 On Friday, activists across the country will begin protesting and rallying in Washington, D.C., to "demand that indigenous rights be respected" over the construction of the Dakota Access pipeline on the Standing Rock Sioux Reservation.
Other activists will also be marching and rallying for and against other causes in Washington, D.C., Los Angeles and New York City.
Here's what is happening this weekend:
Los Angeles
Trump is taking away the peoples victories against these deadly pipelines!
Washington, D.C.
Native Nations Rise: Rise With Standing Rock
The Standing Rock Sioux Tribe and indigenous grassroots leaders call on our allies across the United States and around the world to peacefully March on Washington, D.C.
No Nazis in D.C.: Protest Richard Spencer's Neo-Nazi Think Tank
"Alt-right" Neo Nazi Richard Spencer recently opened an office of his white supremacist think tank the National Policy Institute in Alexandria, Virginia. We will rally together to show these nazis that they are NOT welcome in our community, that their perverted, violent racist ideology has no place in our society and that they should prepare to meet coordinated, powerful peaceful resistance should they try to operate in Washington, D.C.
Join us on Saturday, March 11, as we march and celebrate with local artists, musicians and community members to celebrate our diverse neighborhoods. Featuring musical acts Elena y Los Fulanos, Lilo, Ethiopian Dance and many more!
Concerned Citizens For LGBT Safety and Rights
The LGBT community is very vulnerable right now. This march is to rally behind the community and promote safety for the LGBT community, as well as promote preservation of the right to live a happy life with dignity. Assembly will be at Lafayette Square right across from the White House off Pennsylvania Avenue between 15th Street, N.W. and 17th Street, N.W. at 10:00 a.m. March will begin promptly at 10:45 up to Logan Circle where a short rally will take place and information pamphlets will be available.
San Francisco
Idle No More SF Bay and tribal nations in the west are in solidarity with the Standing Rock Sioux Tribe and indigenous grassroots leaders who are calling on our allies across the United States and around the world to peacefully march for Native American rights on March 10. We ask that you rise in solidarity with the indigenous peoples of the world whose rights protect Mother Earth for the future generations of all.
New York City
Women in Rebellion! To Resist is Justified! Unite to Fight Trump
"Women Rise & Organize" intergenerational and international roundtable at 2 p.m.