Who is Brian d'Arcy James? 8 things you need to know about the original 'Hamilton' star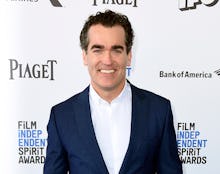 It's good to be the king. Brian d'Arcy James, who originated the role of King George III in the off-Broadway premiere of the hit show Hamilton, will return to the role of the musical monarch when he joins the Broadway cast on April 14. 
James, who departed the cast to star in the new musical Something Rotten! which opened on Broadway in April 2015, announced his return to the musical via Twitter:
He will replace former Saturday Night Live star Taran Killam, who plays his final performance as King George, the disgruntled ruler who doesn't understand why his subjects would want to leave him, on April 13. 
James has wanted to be an actor since adolescence, and he has an impressive resume of theater, film and TV. Below are eight facts about Broadway's newest king. 
1. Hamilton will be his 13th Broadway show.
James has appeared in the musicals Titanic, Sweet Smell of Success and The Apple Tree, and the plays The Lieutenant of Inishmore and Macbeth, among many others. And a wide variety of costumes have accompanied each role: Throughout his career, he has worn a fat suit (Shrek the Musical), stockings and a garter (Hamilton) and a codpiece (Something Rotten!) onstage. The Hamilton gig marks his 13th Broadway appearance.
2. He's been nominated for three Tony Awards. 
James received Tony Award nominations for his performances in Sweet Smell of Success, Shrek the Musical and Something Rotten! He also performed at the 2009 Tony Awards ceremony, making an impressive change from a red-carpet tuxedo to an ogre outfit. 
3. He had a leading role in Spotlight. 
James played Matt Carroll, a member of the Boston Globe's team of reporters who exposed the scandal of sexual abuse in the Catholic Church, in the Oscar-winning film Spotlight. His co-stars included Mark Ruffalo, Rachel McAdams, Michael Keaton, John Slattery and Liev Schreiber. 
Spotlight wasn't the first time James played a reporter: In 2010 he starred as a war journalist in Donald Margulies' play Time Stands Still. 
4. He earned raves in the original Hamilton.
For his performance as King George, James was praised by critics. The New York Times said he embodied the character "pre-eminently and hilariously" and "played with vaudevillian brilliance." And Variety wrote, "The brightest spotlight shines on King George III, divinely costumed and played with delicious wit by Brian d'Arcy James, whose forked tongue drips with venom for his wayward subjects." 
5. He left Hamilton after six weeks to star in Something Rotten!
The new musical Something Rotten! fast-tracked its way to Broadway, and James, who was cast in the starring role, departed Hamilton to play frustrated playwright Nick Bottom. 
"I had to make a decision based on a what-if scenario about the rumor of Something Rotten! coming in," he told Deadline. "So I had to tell [the Hamilton team] that this is a possible thing and if it happens I think I'd like to do it. Just so everyone could get their ducks in a row. They had their chance to cut ties with me then and thank God they didn't." 
6. He's got tap-dancing skills.
While James remained clad in a cape and crown in Hamilton, in Something Rotten! he put his dancing skills to use. 
7. Hamilton was the second time he's left a show before it moved to Broadway.
James played the devoted husband Dan in the off-Broadway performance of Next to Normal, but he left the show to play the title role in Shrek the Musical. He then rejoined Next to Normal's Broadway cast in 2010. 
8. He's only onstage for nine minutes in Hamilton.
King George sings three solos and is only onstage for nine minutes of the three-hour show. But he and fellow King George actors Jonathan Groff and Andrew Rannells have said they make the most of each moment. 
Mic has ongoing Broadway coverage. Please follow our main Broadway hub.