Detained immigrants were served rancid meat in one of California's wealthiest counties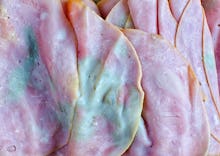 This week in disgustingly inhumane happenings across the country:  A detention facility in Orange County, California, has been serving expired deli meat to hundreds of immigrants, the Los Angeles Times reported. 
An internal report published on Wednesday revealed the details of the horrific conditions. During a surprise inspection last October, inspectors found that immigrants were being served "slimy" lunch meat that they had to wash off before eating, the Times said. The report also revealed the detention center had moldy showers, another significant health risk. 
This all went down at the Theo Lacy Facility in Orange and the James A. Musick facility in Irvine. 
Orange County happens to be home to some of the wealthiest cities in the U.S., Nerdwallet noted. It's also close to where the privileged cast of The O.C., the hit teen drama from the early 2000s, used to romp around celebrating Chrismukkah. 
As of Wednesday, the facility had 528 detained immigrants, the Times noted. These immigrants are waiting for immigration court hearings. 
The detention facility served rancid meat to detainees
Meat with a "keep frozen" label was stored in refrigerators, with no indication of how long it had been thawing. The Times noted that lunch meat and ground meat were stored without protective wrappers in these large fridges, with no Tupperware in sight. 
When interviewed in October, five detained immigrants said they were "repeatedly served lunch meat that smelled and tasted bad, which they rinsed with water before eating," the Times noted. 
Fresh deli meat lasts a week in the fridge and is only safe to eat up to six days past its expiration date, the site Eat By Date noted. A foul smell and slimy or wet surface indicates the meat is not safe to eat. 
The Orange County Sheriff's Department told the Times that they are in the process of signing on a new lunch meat vendor and are working to improve the detention center conditions. 
Here's hoping the staff compliance meetings ensure the food safety practices become safer, stat.