How to use Messenger Day, Facebook's new Snapchat-like feature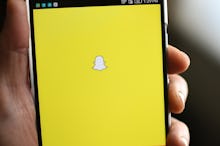 Facebook announced Thursday that its new feature Messenger Day is rolling out globally on Android and iOS. The feature lets you share photos and videos that will self-destruct after 24 hours. Sound familiar? That's because it's essentially Snapchat.
What is Messenger Day?
Messenger Day is like Facebook's Messenger app, but with a multimedia story about your day. Like Snapchat, it allows users to decide who can view their content. Users can share with friends, with family only or with anyone they want by customizing their privacy settings. Facebook friends can view this content and reply to them. 
How to use Messenger Day
To use Messenger Day, make sure your device has the most recent version of the Facebook Messenger app. Then, open the Messenger app and select the camera icon with the sun next to it. This will open up your device's full-screen camera. You can also select the "add to your day" button at the top of your inbox.
From your camera, capture a photograph or video and select the smiley face icon in the top right corner to add art and effects to the footage captured. To add text, click on the "Aa" icon. Selecting the arrow in the bottom right corner will allow you to add to your feed, save it to your smartphone's camera roll or send it to a person or group of people.
How is Messenger Day different from Snapchat?
It's hard to find anything new on Messenger Day that Snapchat — or the Facebook-owned Instagram Stories — doesn't offer. But according to Facebook, there is a difference: Snapchat lets you relive your friends' day while Messenger Day will supposedly let you make plans in the moment.
"This is about today. It's not about yesterday. It's not about tomorrow," David Marcus, Facebook vice president of messaging, told TechCrunch. "The two key functionalities are: One, I'm going to set context because it's going to make for better conversations if people know where I am and what I'm doing; and two, it's about where I want to take my day, like 'I'm bored and I want to go out for coffee' or 'I want to go see a movie' so I'm going to use a frame, take a photo and see which of my friends are going to engage with me to actually make that plan, because planning is one of the core capabilities of a messaging app."
We'll see if it catches on.