iPhone 8 Release Rumors: Will Apple switch to USB type-C chargers?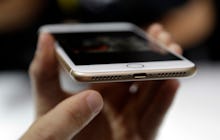 With the iPhone 7, Apple switched things up by eliminating the headphone jack and creating a headset that works from the lightning port. Now, according to new reports, Apple might be switching its lightning port to a USB type-C charger.
According to the Wall Street Journal, the next-gen iPhones will have a "USB-C port for the power cord and other peripheral devices instead of the company's original Lightning connector." Adding fuel to the speculation is the fact that Apple has a USB Type-C connector on its MacBook line.
The Verge notes that the WSJ report does not necessarily imply that the iPhone handset will have a USB-C port. Instead, it's possible that the next iPhone will have the traditional lightning port but the power adapters will have USB-C compatibility.
Changing a charging cable is nothing new for Apple. The tech giant originally used a 30-pin dock connector and swapped it out for the lightning connector in 2012 with the debut of the iPhone 5, reports CNBC.
In other speculation surrounding the next iPhones and charging, the most pervasive rumor is about wireless charging. Apple analyst Ming-Chi Kuo has predicted that all three devices releasing this year will feature wireless charging, reports 9to5Mac.