Is Nicki Minaj still the queen of hip-hop? Fans have mixed views.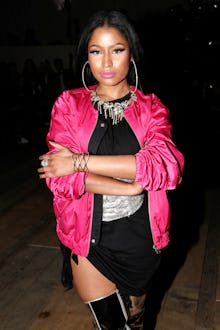 In 2010, Rolling Stone declared that Nicki Minaj was the queen of hip-hop. In the years following, she sat on her throne unchallenged. But her current beef with fellow rapper Remy Ma has brought up the debate about whether or not Minaj should still wear this crown.
Until two weeks ago, Nicki Minaj had no major female rap contenders for her title. But this all changed when Remy Ma called her out on the hardcore seven-minute diss track "Shether," and challenged Minaj to respond in 72 hours. Minaj chose silence initially, but finally clapped back on her new song "No Frauds" featuring Lil Wayne and Drake. On the track she offers one verse in response to "Shether," and she later wrote on her Instagram account that she had no plans to respond with a whole diss track aiming at Remy Ma.
"Here at Young Money, we don't do diss records, we drop HIT RECORDS & diss u On them," Minaj wrote in the post below.
Minaj had every right to take on the beef in the way she saw fit. But her focus on creating a radio and club-friendly record isn't following traditional hip-hop battle customs, so does that still make her deserving of the queen of hip-hop title? Fans on Twitter had mixed thoughts on it. 
For some, in the tweets below, "No Fraud" is further proof she's more of a pop artist than a hip-hop artist. Read their thoughts here:
Others loved the catchy "No Frauds" and felt that Minaj is still carrying the crown because she outsmarted her opponent by exploiting the beef to further make money.  This is how they felt:
What we've learned from this beef is that Remy Ma and Nicki Minaj, although both talented and successful in their own ways, don't have the same philosophies on what makes a hip-hop artist deserving of a top honor. 
Minaj is proud of her record sales, awards and mainstream success, and rightfully so. She seems more concerned with staying on top of those money bags. Besides, she's making history and has a loyal fan base that she's worked to build.
But for fans who believe that having strong bars, delivery and flow mean more to hip-hop culture than dollar signs, this is not impressive. Ma's approach to the beef brought back hip-hop's heart and love for competition and seeing rappers showcase their raw skills. And as an indie artist, Ma values having more power over her music and profits.
It is not clear whether the beef will actually die down as of now — Ma said she was done —  but in an industry lacking strong visibility of female hip-hop artists, it has been refreshing to see two women at the center of the hip-hop conversation for a change.
Mic has ongoing Nicki Minaj coverage. Please follow our Nicki Minaj hub here.