'Crazy Ex-Girlfriend' creator Rachel Bloom thinks we need to talk about clitoral orgasms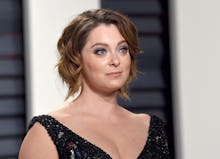 Crazy Ex-Girlfriend creator, star and all-around quadruple threat Rachel Bloom thinks we need to be talking about the clitoris way more. Way, way more. 
Bloom was fired up by a CNN article about the gendered "orgasm gap." Bloom said Friday in a phone call that the article didn't mention the clitoris until nearly halfway into the story. "This is something I've been ranting about for years," Bloom said. "Nobody talks about the goddamn clitoris."
Despite having what she called a "very enlightened" adolescence and young adulthood — she grew up in Manhattan Beach, California, as the child of a lawyer and an amateur pianist — Bloom said there were still things she didn't know about her own sexuality. 
"For many years, I, as a feminist who went to school for theater, I was immensely insecure about the fact that I cannot orgasm without clitoral stimulation," she said.
But now, Bloom said, "I am fine saying that because it's not a defect." But the article she tweeted Friday, which, she felt "talks about women's inability to orgasm from penetration like it's a problem," frustrated her. 
That's not the problem, Bloom said; the problem is "the fact vaginal penetration does not necessarily stimulate the clitoris in that way, and we do not teach young girls, or young men, about the clitoris."
But according to Bloom, and based on her own experiences, too few cisgender women know the importance of the clitoris. "I had to read blogs and kinky books to understand that if you want to orgasm during sex, a lot of women, the majority of women, will have to find some ways to also stimulate the clitoris," Bloom said.
The "orgasm gap" between straight men and straight women is well documented — a recent study found that, while 95% of heterosexual men reported "usually to always" having an orgasm during sex with a partner, only 65% of heterosexual women said they "usually to always" orgasmed during partnered sex. 
In fact, experts have been divided over whether there's even such a thing as a "vaginal orgasm" that exists as distinct from the clitoral orgasm. And recent research indicates that, to Bloom's point, there are two types of female orgasms but both come from stimulating different parts of the clitoris.
So what does Bloom wish she had known about female sexuality when she was younger? "I wish I would have talked about masturbation more with other girls," she said. "I've been masturbating since I was 11, 11-and-a-half," Bloom said, adding that the reason she started masturbating was she was a "loner" and a "bookworm" who learned about the clitoris in educational books about puberty. "They literally said 'women can masturbate by stimulating their clitoris,'" Bloom said.
But Bloom didn't talk about masturbating until an AIM conversation with a friend when she was around 17 or 18. And that lack of open dialogue about female sexuality extended to representations of sex in media.
"We need to educate women about how every woman's body is different," she said. "In movies, when you see a couple having a love scene ... you never see the woman reaching down and stimulating her clitoris, or a man reaching down."
The second season of Bloom's show, Crazy Ex-Girlfriend, recently ended, and it's been renewed for a third. The show airs on the CW, which means that, as Bloom said, she's limited in how much she can show in sex scenes.
But she and the other writers try "as much as possible to show what sex is really like ... people coming up from going down on Rebecca, we've shown Rebecca coming up from going down on other guys," Bloom said. "We try the best we can to capture what we know to be true."
Capturing that, especially showing the ways women can have orgasms beyond vaginal penetration, is important in sending the message that women, and their pleasure, matter, Bloom said.
"We put so much emphasis on the male orgasm," she said. "And so the idea that a woman's orgasm or a woman's pleasure is in any way secondary. ... If we are de-emphasizing a woman's essential pleasure ... what else are we delegitimizing with women?"