To save Jewish children from Nazis, this brilliant man hid passports in mayo sandwiches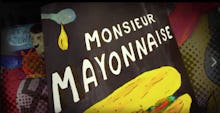 Mayonnaise, a sandwich spread that's beloved and loathed by many, takes the spotlight in a new documentary about courage and survival during the Holocaust. 
Australian filmmaker and graphic novelist Philippe Mora recounts his father's participation in the French Resistance in Monsieur Mayonnaise, which was recently screened at the Berlin International Film Festival, NPR reported.
His father Georges Mora was a German-Jewish member of the French Resistance who died in 1992. Philippe Mora knew his father had the nickname "Monsieur Mayonnaise" during World War II, and it was Georges' friend Marcel Marceau, the iconic mime artist, who revealed the origins of the nickname after his father's passing. 
After the younger Mora released a documentary about Hitler that was shown in Berlin in 2009, he learned about how his father fought Nazis with sandwiches, the Sydney Morning Herald reported. 
Georges Mora escaped Germany after the "burning of the books" bonfire in Berlin in 1933. While living in France and working in the French Resistance, he noticed German soldiers would not search mayo-laced sandwiches for fear the drips got on their uniforms, the Sydney Morning Herald noted. 
Thus, the French Resistance began stuffing "resistance documents and passports" into baguette sandwiches that were smeared with mayonnaise, NPR noted (The documents were wrapped in protective wax paper, lest you were worried the oily condiment might sully the important documents). Mora suspected that The Gestapo — the secret police of Nazi Germany — wouldn't thoroughly investigate the children's food. And he was right. 
According to Variety, Mora helped Jewish children flee from Nazi-occupied France to Switzerland. His friend Marceau was also integral to helping Jewish children escape from France.
"Marceau started miming to keep children quiet as they were escaping. It had nothing to do with show business. He was miming for his life," the younger Mora said of his father's friend, the Sydney Morning Herald noted. 
It's unclear how many Jews were saved from the concentration camps thanks to the efforts of Monsieur Mayonnaise and his friend Marceau. The duo allegedly smuggled "scores" of children, Variety noted. 
Intrigued by this tale of bravery and cleverness? Check out the full trailer for Monsieur Mayonnaise below.