'Blaster Master Zero' Nintendo Switch Review Roundup: Critics praise the old-school revamp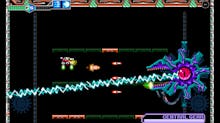 One of the coolest things about the Nintendo Switch is that it's powerful enough to run console-tier games in a small package — like its crown jewel, Legend of Zelda: Breath of the Wild — but it's also perfectly suited to run old-school-style games like the ones we loved on previous handheld gaming systems.
Enter Blaster Master Zero, a remake of the 1988 NES title Blaster Master, which hit Nintendo Switch and Nintendo 3DS on Thursday. It mixes top-down and side-scrolling gameplay — like a combination of Mega Man and The Legend of Zelda: A Link to the Past — and reviews so far are mostly positive.
Do you really need to read the reviews to know it's going to be good? It's about a boy named Jason who chases his pet frog through a magic portal, for Pete's sake. Fine, still not convinced? Let's see what the critics have to say so far.
Blaster Master Zero review roundup: Critics praise the old-school revamp
So far, Blaster Master Zero for Nintendo Switch is sitting at an 84% on Metacritic, with a total of six reviews. Here are a few excerpts.
Azario Lopez, Dualshockers:
I'm often skeptical of developers using my nostalgic memories of video games against me by "rebooting" or "retelling" retro franchises, but after my time with 'Blaster Master Zero', I have been made a believer that it can be done in the most respectful way possible.
Steve Bowling, Nintendo Life:
If you've finished your launch titles already, or are just looking for something new, we highly recommend 'Blaster Master Zero'; it's a great homage to the original and one you will have a blast (sorry) playing.
Chris Carter, Destructoid:
'Blaster Master Zero' is a loving recreation that serves as both a companion and in some ways a replacement for the original. While I'll always see myself going back to the NES classic for the rest of my days, 'Zero' is a good way to introduce the series to a newcomer without scaring them off.
Blaster Master Zero Nintendo Switch trailer
If you're still not quite sure whether Blaster Master Zero is for you, check out the trailer below from Nintendo.
It's available on the Nintendo eShop for $9.99.
More Nintendo Switch news and updates
Looking for more Nintendo Switch news? Learn why the Switch cartridges taste so bad. Check out our comparison photos sizing up the Switch to the Wii U GamePad (part one and part two), find out how to make use of ethernet without the dock and the best way to get alerts when new stock arrives.