Latina students at Pitzer College ask white girls to take off their hoop earrings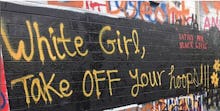 When it comes to hoop earrings, bigger is better. The same cannot be said for controversy. 
Pitzer College is at the center of a growing controversy after its school paper, the Claremont Independent, reported that two Latina students took responsibility for writing "White girl, take off your hoops!" on the wall of a campus dormitory.
According to an email sent to the entire student body and published in the Claremont Independent, Alegria Martinez, a resident assistant and member of the Latinx Student Union, said she and a few other women of color were "tired and annoyed" with the recurring theme of white women appropriating styles "that belong to the black and brown folks who created the culture." 
"The black and brown bodies who typically wear hooped earrings (and other accessories like winged eyeliner, gold nameplate necklaces, etc.) are typically viewed as ghetto, and are not taken seriously by others in their daily lives," Martinez wrote. "Because of this, I see our winged eyeliner, lined lips and big hoop earrings serving as symbols [and] as an everyday act of resistance, especially here at the Claremont Colleges." 
She added, "White people have actually exploited the culture and made it into fashion." 
Jacquelyn Aguilera, another student who claimed credit for the message, responded to the school-wide email. 
"If you didn't create the culture as a coping mechanism for marginalization, take off those hoops," Aguilera wrote. "If your feminism isn't intersectional, take off those hoops. If you try to wear mi cultura when the creators can no longer afford it, take off those hoops. If you are incapable of using a search engine and expect other people to educate you, take off those hoops. If you can't pronounce my name or spell it ... take off those hoops." 
Since the Claremont Independent's report on the wall, several conservative outlets have picked up the story.
The National Review, Heat Street and the Daily Caller have all taken umbrage with the spray-paint job, with the Daily Caller even going so far as to inspect Martinez's Facebook likes. Heat Street also pointed out the long historical lineage of hoop earrings, which have been worn by ancient Sumerians since 2600 B.C. 
While several outlets posted about the history of hoop earrings, few tackled the claims the girls were making, specifically the role of hoop earrings in the Mexican chola aesthetic and how these earrings are linked to lower-class Mexican identity. Calls against appropriating Chola style have been around for years, which makes the women of color's graffiti outburst not new — and the conservative clapback seem ill-researched. 
In a statement to Mic, Pitzer college said it applauds its students' "respectful and open-minded discourse" which they called "central to the college educational experience." 
Pitzer College president Melvin L. Oliver also wrote an open letter to the university community on Thursday, where he said some students were experiencing harassment and death threats over the controversy. 
"As a place of higher education, we strongly cherish and defend intellectual curiosity, productive discourse and opposing views that may broaden our perspectives as global citizens," Oliver wrote. "However, when speech resorts to hate, violence and threats, we will not tolerate these acts nor the perpetrators of these actions."  
He added, "Every individual is entitled to freedom from fear and stigma, and with the respect of others to pursue a life of meaning and purpose. Pitzer College supports greater acceptance, not less."