Mama June's weight loss revealed in new video about Jennifer Lamb and Sugar Bear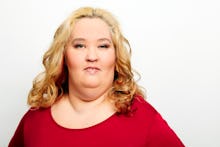 Mama June Shannon, mother of former child pageant star Alana Thompson — aka Honey Boo Boo — is now starring in her own television show. Mama June: From Not to Hot chronicles the formerly overweight woman's weight loss journey and airs on WE tv at 10 p.m. Eastern on Fridays. 
No stranger to the spotlight, Mama June has appeared on both Toddlers and Tiaras and TLC's Here Comes Honey Boo Boo, which followed her daughter's personal life and participation in beauty pageants. Growing up on TV, Honey Boo Boo and her family have long been the subject of fascination. 
The transformation for Mama June is a drastic one. She originally weighed 460 pounds and now wears a size four. The reality star underwent gastric sleeve and skin-removal surgeries, and is also following a diet and exercise plan. 
Entertainment Tonight shared a video revealing the first glimpse of Mama June's change in appearance, as well as a potentially awkward scenario in which Honey Boo Boo is asked by her future stepmother, Jennifer Lamb, to pick out a flower girl dress for her wedding to Sugar Bear. Sugar Bear is Mama June's ex, and Honey Boo Boo asks her mother to come with her for moral support. 
Shannon went to great lengths to keep her weight loss a secret, wearing disguises when she was out in public. "It's been really hard for her [to stay hidden], because my mama is not just a person who can stay in the house," Honey Boo Boo told People. "My mama is very outgoing and stubborn ... The craziest disguise that she's done, she went out with this big jacket on, glasses, a hat and a scarf. She went overboard."
Mic has ongoing TV coverage. Please follow our main TV hub.