Model with a rare chromosomal disorder poses in a gorgeous photoshoot for 'V Magazine'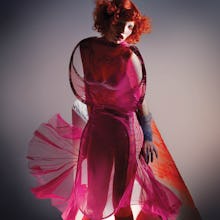 Model Caitin Stickels is, like so many models, trying to make it in the industry. She wants to be on those magazine covers. She wants to walk those runways. She wants to be seen. 
Though there is actually one thing that sets Stickels apart from perhaps any other model working today: She was born with a rare condition called Schmid–Fraccaro syndrome, also called cat eye syndrome, which is a rare chromosomal disorder that can affect areas of the body like the eyes, ears and heart. 
But despite being in an industry where women who defy beauty norms are often silenced, that hasn't stopping her from making her own mark on fashion. The proof: She just landed her most high-profile shoot yet, in a spread for V Magazine, shot by famed photographer Nick Knight. 
The photos accompany a story Stickels wrote herself about why this particular photoshoot means so much to her right now. 
"Despite my admiration, I never imagined what it could be like to work with Nick Knight even with him being an incredible and unforgettable icon to me," she writes. "I just never gave myself the chance. All the while, Nick Knight saw what I have been doing on my own accord and he gave me the chance that I never gave myself, as did V."
In the shots, Stickels poses in bright high fashion, striking interesting poses.
"This is why I loved them both from the beginning when I was young and still do now — they opened eyes, they opened minds and they gave this world a chance," Stickels wrote. "They both have done the same with me and I'm still processing that it's now my reality too. This collaboration has been the most beautiful whirlwind of my life." 
On Stickels' own Instagram account, her fans are wild about the shoot too, writing things like "Nick Knight is one of the last great fashion photographers still standing. ... You've become immortal in the history of art/fashion photography now." 
You can see Stickels' entire shoot, and accompanying article, here.