Muhammad Ali's family asks Congress to put a stop to Trump's "insulting" Muslim ban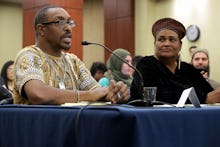 The family of late boxing champion Muhammad Ali headed to Capitol Hill on Thursday to meet with House Democrats and ask them to fight President Donald Trump's Muslim travel ban. 
In late February, U.S. immigration officers detained Muhammad Ali, Jr. and his mother, Khalilah Camacho-Ali, for several hours upon their arrival at Fort Lauderdale-Hollywood International Airport from Jamaica. As U.S. citizens, they both provided proper travel documentation, ThinkProgress reported. But according to attorney Chris Mancini, Ali Jr. was repeatedly interrogated on his faith as a devout Muslim. 
Ali Jr. and Camacho-Ali appeared before House Democrats at a forum on Capitol Hill titled "Ali vs. Trump: The Fight for American Values" to discuss their experience and views on the executive order. The duo also appeared to show their support for the End Racial and Religious Profiling Act of 2017, which would prohibit any law enforcement agency from profiling Americans based on race or religion.
"I was so violated," Camacho-Ali said during the forum. "This is not acceptable. I've never felt this uncomfortable being in this country."
Camacho-Ali went on to criticize the Trump administration.
"Someone needs to turn the humanity switch on," Camacho-Ali said, referring to Trump's administration, according to Think Progress. "It's not going to be an Aryan state, so they might as well hang it up. We must step into the ring and fight this thing and keep fighting until it's done. There's a reason why Mr. Trump is in place, and I think that's so we can all fight for each other."
A few months before his passing on June 3, the boxing legend issued a December 2015 statement condemning Trump's anti-Muslim rhetoric and proposal to ban Muslims.
"Speaking as someone who has never been accused of political correctness, I believe that our political leaders should use their position to bring understanding about the religion of Islam and clarify that these misguided murderers have perverted people's views on what Islam really is," Ali said in the statement.