Cheap travel to US destinations just got easier. Here's why.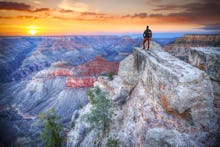 Have you been yearning to see the sights in NYC or visit Disney World? Now might be your chance to get a great deal on travel within the United States. 
Why? There's less competition — which means more bargaining power for you. Many experts are warning of a slump in the number of travelers coming from abroad to vacation in the U.S.
In just one week following President Donald Trump's original travel ban's introduction, "approximately $185 million in business travel bookings were lost as the uncertainty surrounding travel in general had a rippling effect on traveler confidence," according to the Global Business Travel Association. 
While this might spell bad news for the tourism industry (and arguably for the country, for other reasons), one possible silver lining is that cash-strapped Americans might have a better shot at visiting desired U.S. travel destinations at a lower cost.
Not only will you get a good deal, but you can also help to support the tourism industry right when struggling hotels, restaurants and attractions hit hard by the slump need a boost.
Why visits to top U.S. destinations could decline
International travelers are big players in the U.S. tourism industry, as the U.S. is a top destination for visitors from around the globe. "More money is spent in the United States by international travelers than anywhere else in the world," Adam Sacks, president of Tourism Economics, told the New York Times back in November.
How much money do foreign travelers bring in? A lot. "The travel industry had nearly $250 billion in sales to foreigners in 2015," according to Marketwatch. 
Unfortunately, there may be far fewer foreign travelers bringing their pounds, euros and pesos into the U.S. in upcoming years. "Interest in travel to the US has "fallen off a cliff" since Donald Trump's election, according to travel companies who have reported a significant drop in flight searches and bookings," the Guardian reported in February.
Travel bans, concern over immigration and worries about clearing customs have reduced interest in traveling to the U.S. from countries worldwide, according to the Independent.
If uncertainty continues, the decline in international tourism could be dramatic, with as many as 6.3 million fewer foreign visitors to the United States each year from 2016 to 2018, according to projections that Adam Sacks, president of Tourism Economics, provided to the New York Times. 
Past experience — and the laws of supply and demand — suggest that reduced tourism could lead to lower prices in affected industries. 
How to get deals and discounts on hotels 
When interest in tourism drops, hotels tend to slash prices. In response to safety concerns in Paris, for example, hotel occupancy rates fell to 32% in the second half of July 2016, compared with 77% occupancy in July 2015. Hotels responded by offering discounts of as much as 56%.  
Prices are already falling in major U.S. cities in response to declines in international travel: "Kayak has identified a knock-on effect on average hotel prices," according to the Guardian. "It found prices in Las Vegas are down by 39% and New York City by 32%."
Prices are also lower in San Francisco, with average hotel rates down by 34%, according to ABC Australia. And if uncertainty surrounding U.S. travel rules continues, hotel prices could continue to drop.
To take advantage, you should check out hotels that cater to business travelers and professionals; Business Insider indicated that certain hotels targeting business travelers tend to offer discounts during slower times. 
These times may be coming, as business travel may be especially impacted by changes to travel policies, including proposed changes to visa waiver rules for frequent travelers. 
Calling the hotel directly, booking within cancellation periods — around 24 to 48 hours before your stay — and signing up for alerts on price drops are some other tips recommended by BI to help snag a deal. 
How to pay less for tourist attractions 
Hotels aren't the only business dependent upon international tourism: Theme parks and other attractions also rely on guest coming from around the globe. 
Ten of the top 25 theme parks in the world are in the U.S, according to the Themed Entertainment Association. These parks get a substantial amount of business from foreign countries. International travelers account for around 18% to 22% of total attendance at Disney World and have been credited with increasing traffic at parks in both Anaheim and Orlando in recent years, according to the Orlando Sentinel. 
Disney markets heavily to foreign visitors: "Thousands of international guests visit every day and Disney strives to provide for their every need. Park guide maps are available in a number of languages, and many employees are multilingual," according to Orlando Vacation.
And "larger theme parks are likely to attempt to make up the difference by luring locals with deals and incentives," according to Inside the Magic.
A wide range of other attractions also welcome many international travelers. "Although Grand Canyon National Park officials don't track visitors' nationalities, they say they've noticed a sharp increase in international tourists in the past year or so and estimate that they now make up about 40% of all visitors to the massive gorge," according to Arizona Central. 
Losing foreign dollars is going to hurt, and attractions will have to try to make up for losses. This could lead to discounts for those who do travel.  While entry fees to the Grand Canyon are affordable at just $30 per vehicle, helicopter tours can cost more than $200 and specialty tours can cost upwards of $2,500 per person. If bookings are down, you might be able to bargain.
Where might travel get cheaper in the U.S.?
Before the projected travel slump, tourism was actually booming throughout the country: "More than 305 million people visited national parks in 2015, eclipsing the all-time visitation record that the National Park Service saw in the previous year," according to the National Park Service.
Los Angeles County, Florida and New York City have all beaten travel records in recent years, too. But now there may be fewer people at top destinations. "Tourism Economics, a global research firm, estimated that Los Angeles County could lose 800,000 international visitors ... over the next three years," per the Los Angeles Times.
New York City "now expects to draw 300,000 fewer foreigners this year than in 2016, when 12.7 million international visitors came," according to the New York Times. And "Kayak reported a 58% decline in searches for flights to Tampa and Orlando from the U.K., and a 52% decline in searches for Miami," according to the Guardian, which also noted that "searches for San Diego were also down 43%, Las Vegas by 36% and Los Angeles 32%."
Yet a decline in international travel won't have a uniform impact on tourism throughout the U.S., because some locales host far fewer international travelers than others. "Declines in visitors and revenue won't likely hit Colorado hard," Andrea Blankenship, the Colorado Tourism Office's director of international tourism, told the Denver Post.
Destinations in the U.S. that do tend to attract the most international travelers include Boston, Chicago, Washington D.C., Las Vegas, San Francisco, Orlando,  Los Angeles, Miami and New York City, according to Escape Here.
If these hot spots see a big decline in visitors, watch for special deals and plan a visit. You can help out the local economy and those who depend on tourism dollars, all while paying a great deal less to see the sights. 
Sign up for The Payoff — your weekly crash course on how to live your best financial life. Additionally, for all your burning money questions, check out Mic's credit, savings, career, investing and health care hubs for more information — that pays off.