When is SXSW? 2017 schedule, locations, ticket information and more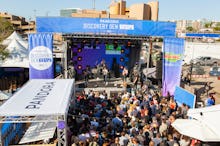 Tens of thousands are descending upon the streets of Austin, Texas, for the annual South by Southwest festival. Some of the most talented, emerging minds and acts in technology, film and music will be participating in screenings, panels and performances.
The festival can seem like an overwhelming experience — especially for first-timers — so here's all the fundamental information you need to know about it. 
When is SXSW?
The entire SXSW festival takes place from March 10 to March 19. 
The interactive festival happens from March 10 to March 16. Read up on the various sessions covering health, journalism, sports and more cultural topics here. The festival's film portion is held from March 10 to March 18. Click here to see the schedule of film screenings. The music festival goes on from March 13 to March 19. Go here to look at all of the artists scheduled to perform at SXSW. 
Here is an overview of the festival's entire schedule. Registrants can also make their own personalized schedule and receive recommendations via the SXSW Go app. 
SXSW location
The SXSW music festival is held in Austin, Texas, and events are spread out at venues across the city. The Austin Convention Center is the central point for the festival and its trade show. Here's more information about getting around Austin via public transportation. 
SXSW ticket information
There are several badge options available for those interested in attending SXSW. The platinum badge is $1,650 and will give you primary access to all SXSW interactive, film and music events. It's valid for all days of the festival.
The interactive badge costs $1,325 and will give you primary access to that portion of the festival's events. The film badge costs $1,325 and will give you access to nine days of events, including screenings, premieres and a comedy festival.  
The music festival will also run you $1,350. Acts for 2017 include Sleigh Bells, Migos and Solange. Music showcases are scheduled from 8 p.m. to 2:00 a.m. local time.
Attendees can pick up their badges at the registration area in Exhibit Hall 5, on the 4th Street side of the Austin Convention Center.
Mic has ongoing arts coverage. Please follow our arts hub here.