ICE just released Daniela Vargas, the Dreamer detained after railing against deportation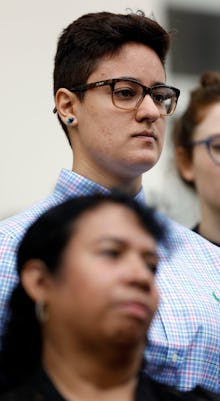 On Friday, U.S. Immigration and Customs Enforcement released 22-year-old Daniela Vargas, an undocumented Mississippi resident who was taken into custody earlier this month, according to Mississippi Today.
Vargas had been detained just moments after speaking at an immigrant rights event in Jackson, Mississippi, on March 1. She was speaking out about the detention of her father and brother who had been taken into custody by ICE two weeks earlier. 
One of her lawyers, Abigail Peterson, told Mississippi Today that Vargas was not out of the woods yet. "Because that removal order is still there," Peterson said, ICE "could enforce it at any point for whatever reason."
Vargas had previously been protected from deportation under the Obama administration's Deferred Action for Childhood Arrivals or DACA program. Her DACA protection had recently expired and she was in the process of applying to extend it when she was detained.
Vargas's arrest immediately gained national attention after she was detained.
Another one of Vargas's attorneys told Mississippi Today that she wasn't sure why Vargas had been released. "I think it's really ICE exercising their discretion," the lawyer, Nathan Elmore, said. ICE officials, while confirming the release, also declined to say why it happened.