US Attorney Preet Bharara ordered to resign after Donald Trump said he could stay on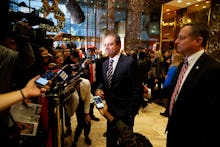 The Justice Department on Friday ordered Preet Bharara, U.S. Attorney for New York's Southern District, to resign along with 45 other holdovers from the Obama administration — despite having said President Donald Trump had personally asked him to stay on.
"The firings were a surprise — especially for Mr. Bharara, who has a reputation for prosecuting public corruption cases," the New York Times wrote in reporting the shakeup.
A spokesman for Bharara said by phone that the office had no comment Friday night.
Bharara met with the then-president elect at Trump Tower last November.
Afterward, per a pool report, Bharara said Trump requested the sitdown "to discuss whether or not I'd be prepared to stay on as the United States attorney to do the work as we have done it, independently, without fear or favor for the last seven years" and that he'd agreed to stick around.
Bharara went on to say he'd also spoken with Trump's then-nominee for attorney general, Jeff Sessions, who likewise "asked that I stay on, and so I expect that I will be continuing to work at the Southern District."
In a statement, Sen. Chuck Schumer (D-N.Y.) deemed reports of the mass call for resignations troubling — particularly so in the case of Bharara, who once served as his counsel.
Schumer pointedly noted "the president initiated a call to me in November and assured me he wanted Mr. Bharara to continue to serve as U.S. Attorney for the Southern District."
The senator also said while it's not unheard of for presidents to ask appointees of previous administrations to step aside, Trump may be acting precipitously.
"By asking for the immediate resignation of every remaining U.S. Attorney before their replacements have been confirmed or even nominated, the president is interrupting ongoing cases and investigations and hindering the administration of justice," Schumer said.
It didn't go unnoticed that the Trump administration, as noted by the New York Times, ordered the attorneys to resign just after Fox News commentator Sean Hannity said the time was right to "purge" Obama holdovers from the Justice Department.
Bharara took office in 2009 after unanimous confirmation by the Senate.
He soon gained a reputation as a tireless crimefighter on multiple fronts, prosecuting cases of high-profile public corruption and domestic and international terrorism.
Bharara also inherited the "Sheriff of Wall Street" mantle once held by disgraced former New York State Attorney General and Gov. Eliot Spitzer for pursuing fraud cases against financial giants such as Deutsche Bank and CitiMortgage.
The prosecutor's media savvy and compelling life story as the son of immigrants from India had created buzz about his political prospects long before the Trump administration ordered him to resign.
It's not clear what Bharara will do next, but speculation about a run for office, perhaps governor, is already swirling.
Bharara launched a personal Twitter handle last month.
He tweeted for the first time exactly a week ago.
"Stay tuned," he wrote.