Is Candice King moving to 'The Originals' after 'The Vampire Diaries' series finale?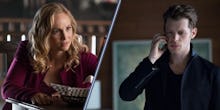 Caroline Forbes may live on in another TV show. Although The Vampire Diaries ended Friday night, the series kind of left Caroline's future open ended. Could actress Candice King be moving over to spinoff series The Originals? 
(Editor's note: Spoilers for The Vampire Diaries series finale ahead.)
The Vampire Diaries concluded with newly married Stefan sacrificing his life in order to kill Katherine and save his loved ones. It was an emotional ending for a beloved character, but the finale showed Caroline seemingly finding peace by running the Salvatore Boarding School for the Young and Gifted with Alaric. The former couple didn't get back together following Stefan's death, however, it looked like Caroline was being pursued by someone else — Klaus Mikaelson. 
None of the Mikaelson family members made an appearance in the final episode, but Caroline did receive a letter and a hefty donation to the boarding school from the hybrid vampire.  
The note was written by The Originals writer Carina MacKenzie, who also confirmed that the end montage "took place years in the future."
Needless to say, Caroline and Klaus shippers were extremely pleased with the moment.
Some Twitter users are even speculating about King joining the cast of The Originals. There is no denying they set up the move for Caroline perfectly.
Unfortunately there has been no confirmation of King joining the cast of The Originals — yet. Season four of the CW drama premieres on March 17.
Mic has ongoing The Vampire Diaries coverage. Check out our main Vampire Diaries hub here.